By Hong Soon-do, Beijing correspondent, AsiaToday
It is estimated that at least a few thousand dissidents against the ruling Communist Party are jailed in China. Besides, a large number of people both within and outside China are said to be against the Communist Party and they are seeking a multi-party system and democratic elections. The Chinese authorities' claim that there is not even one dissident seems to be just a wish of the Communist Party.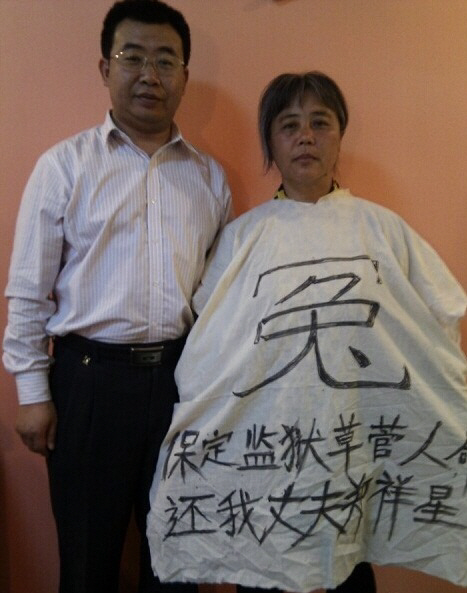 A dissident's wife from Baoding, Hebei province, is protesting to release her husband. Next to her is the famous human rights lawyer Jiang Tianyong./ Source: Amnesty International Hong Kong

This seems to be highly credible, given the recent claims of international human rights groups, including Amnesty International Hong Kong, that around 1,000 dissidents are imprisoned every year for doing activities against the Communist regime. According to US Embassy Spokesperson in China on Tuesday, there is a symbolic figure. Civil rights campaigner and Nobel peace prize winner Liu Xiaobo, who was jailed for 8 years and 6 months, was recently taken from prison to a hospital for treatment of his advanced liver cancer. Considering the fact that he was in jail after being sentenced to 11 years in prison despite being a Nobel Peace Prize winner, it is quite convincing that thousands of dissidents are in prison. We should also mention prof. Ilham Tohti, an Uighur scholar serving a life sentence in China. He was jailed in 2014 for criticizing the Communist Party's minority policies.
Most of the people currently in jail are known as human rights activists or lawyers. However, the Chinese human rights groups claim that there are many artists, farmers, and non-governmental organization (NGO) officials among jailed dissidents. For instance, Zhao Lianhai, who has been struggling against the authorities in relation to food safety problems, got imprisoned several times. Among artists, we should name contemporary artist and activist Ai Weiwei. With a series of imprisonment and preliminary arrest, he moved to Europe and became a semi-refugee. Obviously, there are countless dissidents in the Unites States, Europe and Taiwan just like him. Other representative dissidents include Wang Dan and Wu'erkaixi, who are known for their leading roles during the Tiananmen protests.
Of course, the Chinese authorities are adamant about them. However, it is doubtful whether they could continue to do so in the future with rising standard of living in China. In fact, the rapid sinicization of Hong Kong in recent years is sparking strong opposition of many Hong Kongers, whose city celebrates the 20th anniversary of its handover from Britain to China on July 1. The Chinese authorities' concerns are deepening.