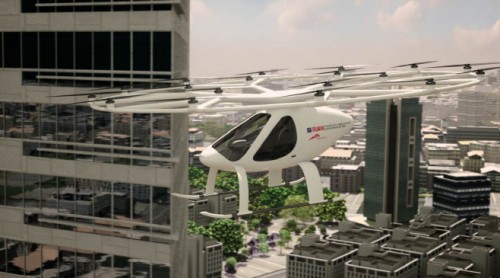 Source: Dubai Media Office
By AsiaToday reporter Jisu Kim
Dubai, one of those at the forefront of adopting new technologies, is becoming the center of futuristic technologies.
According to Mashable and other foreign news reports, Dubai is planning to launch an air taxi service as soon as possible. The autonomous aerial taxi (AAT) was first showcased at the 5th annual World Government Summit in Dubai, which attracted more than 4,000 global leaders from 139 countries in February. The Roads and Transport Authority (RTA) revealed a testing schedule for the AAT program, and announced that it signed an aircraft supply contract for AAT with German aviation company Volocopter.
The Volocopter 2X model used in the project can carry two passengers powered by 9 independent battery systems to ensure for backup if some batteries go wrong in air. It can fly for about 30 minutes at the flying speed between 50km/h and 100 km/h, Volocopter said.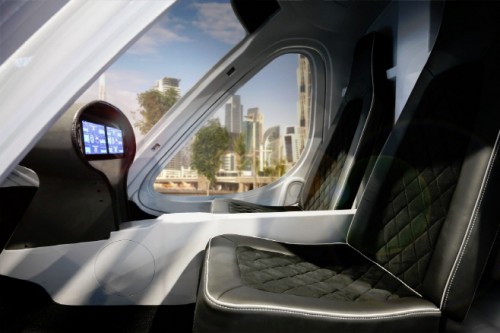 Source: Dubai Media Office
During the test period, AAT will carry passengers on prearranged routes. For the time being, it will be a form of driving a course like a shuttle bus, rather than a real taxi that goes anywhere. The test is schedule to begin in the fourth quarter of this year, and RTA plans to continue testing the system for the next five years while improving the legal system. Dubai is introducing self-driving smart vehicles with a plan to transform 25% of the total traffic in Dubai into autonomous transport by 2030.
Dubai also unveiled the world's first operational police robot. The VOA reported that the robot, which has a touch screen instead of a weapon, is 165 cm tall and weighs 100kg. If the robot works during the test trial, the government plans to replace 25% of its police force with robotic police officers by 2030. The robot cannot arrest the suspect, but can recognize faces and compare them to photographs on a criminal records. It can also sense emotions. People can report a crime, pay fines and report lost by using the robot's touch screen.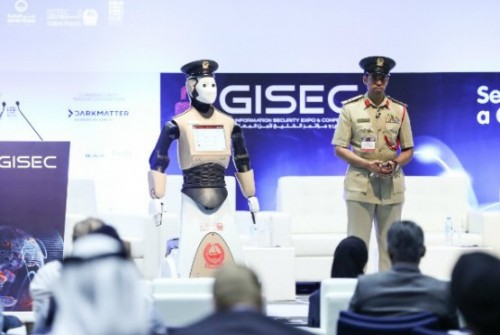 Source: Dubai Media Office
Dubai also plans to introduce other types of robots to the police within two years. According to the Dubai government, it plans to deploy a 3-meter-tall robot that can run up to 80 kilometers an hour. It would be the world's biggest robot, and a human police officer will be able to sit inside to control the robot. Not only this. The city also plans to deploy an elliptical robot to supervise parking areas and check traffic violation.
"Digital passport" is also on the city's top list. Virtual money special media Coindesk reported on June 9 that the Dubai government teamed up with UK startup ObjectTech to develop digital passports based on blockchain technology. The pilot program for this digital passport system will begin in 2020. According to ObjectTech, the system combines biometric verification and blockchain technology, and will use a preemptive and fully digitized passport confirmation system to supervise immigration control at Dubai International Airport. The company is developing so that the system can verify individuals through a 3D scan via a short tunnel as they walk from the airplane to the baggage claim area.
Source: Flickr

As seen above, Dubai is focused on applying futuristic technologies into the present. GulfNews described Dubai as an "early adopter." Forbes pointed out that the factors helping Dubai to be an innovation hub are numerous free zones, excellent infrastructure, no taxes, low import duties and a strategic location. Mahmoud Hashem Al Burai, CEO of the Dubai Real Estate Institute, said Dubai and the UAE have all the conditions to become a global innovation hub. " We have a visionary leader who wants Dubai to be the best, we have an innovation strategy for the UAE, we have people working day and night to be competitive, we have the infrastructure," he said. "All we need to do is connect the dots."