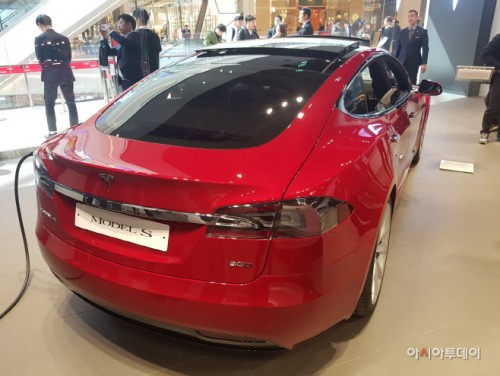 Tesla's Model S 90D/ Photographed by AsiaToday reporter Kim Byeong-hoon
By AsiaToday reporter Kim Byeong-hoon
A new upheaval in the rapidly expanding domestic electric car market is expected as the US electric car giant Tesla has officially started deliveries of its flagship Model S 90D cars. For Hyundai and Kia Motors, who are leading the sales of electric cars in the domestic market, it is inevitable to revise their existing electric vehicle development strategies. Therefore, Hyundai and Kia Motors are planning to solidify their leading position by building its compact electric SUV lineup while enhancing the quality of its mass-selling models, such as Ioniq and Soul EVs.
According to the automobile industry on Wednesday, Hyundai plans to release an electric version of the new Kona compact SUV in the second half of next year. The Kona EV, equipped with a domestic lithium ion battery with a capacity of 63-70 kWh, is expected to run 390 kilometers on a single charge. This is more than double the battery capacity of Ioniq EV, which uses a 28-kWh battery. Kia Motors will launch its Stonic SUV next month and develop the electric version of the Stonic. The automaker plans to introduce the Niro EV in the third quarter of next year to complete the eco-friendly car lineup.
The reason why Hyundai and Kia are focused on developing compact electric SUVs is to expand their lineup in the light-weight and compact electric vehicle markets as well as to respond to the demand for compact SUVs and eco-friendly vehicles.
As of last April, Hyundai and Kia accounted for 70.2% (9,699 units) of the total number of EVs registered in Korea, which reached 13,812 units. In particular, Hyundai's Ioniq EV stood for 40.4% with 5,581 units, reaching the highest sales volume among 13 EVs registered in Korea. The company analyzed the Ioniq's design and performance as well as its reasonable price tag of around 20 million won backed by government subsidies had a positive impact. Kia's Soul EV and Ray EV claimed the No. 2 and No. 4 spots with 2,575 units and 1,330 units, respectively.
Hyundai and Kia plan to primarily secure their dominance in the domestic electric car market with the new Ioniq EV and Soul EV models, and then secure their competitiveness in the future by launching SUV electric vehicles aimed at overseas markets. The carmakers will focus on highly demanding compact models rather than expanding to mid- and large-sized SUVs to expand sales, unlike Tesla and Benz which produce high-end EV models.
"The medium-sized SUV electric vehicles can travel longer than small ones, but they are more expensive because they use a larger battery. This will lead to a decline in sale, which will inevitably increase the deficit for Hyundai and Kia," said Lee Hang-koo, a researcher at the Korea Institute for Industrial Economics & Trade.
An official from Hyundai-Kia Motors said, "Due to recent environmental problems, electric cars have been attracting more attention than diesel vehicles. We will solidify our position in the market with small, mid-sized electric vehicles, and focus on the SUV R&D to lead the EV market."