By Hong Soon-do, Beijing correspondent, AsiaToday
China's anti-corruption investigators seem determined to hit hard those corporate moguls who are closely attached to the supreme power of former regimes. Besides, some companies that have been rumored to have grown big by sticking to the former regimes are reportedly being very careful not to upset the anti-corruption investigators. If this is true, a dramatic change might take place in the Chinese economy.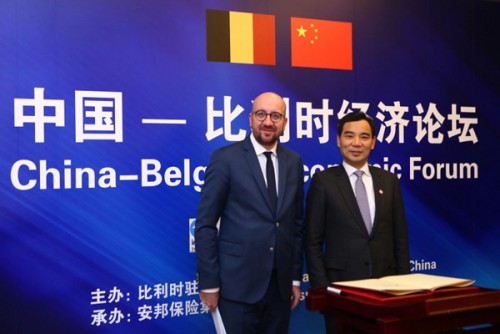 Anbang Insurance Group Chairman Wu Xiaohui and Belgian Prime Minister Charles Michel at the China-Belgium Economic Forum in Brussels, Belgium last October. Wu is likely to be harshly punished for power-related corruption./ Source: Xinhua News Agency
Such prospect is not an exaggeration considering the recent rumor that Wu Xiaohui, chairman of China's insurance conglomerate Anbang and the grandson-in-law of Deng Xiaoping, is being detained by Chinese authorities. This is close to the truth considering that those companies associated with former Chinese Presidents Jiang Zemin and Hu Jintao as well as former premier Wen Jiabao are also under surveillance by the authorities.
According to a Western source in Beijing on Thursday, Anbang chairman's detention is certainly true in many contexts. Official state-media reports have confirmed on June 9 that he was arrested by the authorities. Besides, Wu also revealed personally that he was no longer able to perform his duties due to "personal reasons." The current situation is so severe that it's difficult to guarantee the existence of the company. It's clear that he will be punished strongly.
The status of Jiang Mianheng, president of ShanghaiTech University and the eldest son of Jiang Zemin, is at stake just like Anbang chairman Wu Xiaohui./ Source: search engine Baidu
Jiang Mianheng, president of ShanghaiTech University and the eldest son of Jiang Zemin, is known to have become the target among the people around Jiang Zemin. It is a widely-accepted fact that he is strongly suspected of monopolizing China Unicom, the mobile telecom company he was involved in establishing. This seems why he was once called China's greediest. He is also suspected of managing the slush funds of his aunt Jiang Zehui, the former dean of the Chinese Academy of Forestry, and his father.
In the case of Hu Jintao, his son-in-law Mao Daolin is known to be put in a similar situation. He is suspected of manipulating the management of Sina, a powerful internet portal in China, in the United States with his stake and taking huge profits. In the case of former Premier Wen Jiabao, his son Wen Yunsong is at the center of suspicion. He was a co-representative of New Horizon Capital and is known to a business partner of Anbang Insurance Group Chairman Wu Xiaohui.
At the moment, it is difficult to pinpoint how far the Chinese authorities will investigate and punish them. However, it's clear that they won't just ignore the business tycoons because they are aware that China has no future without eradicating the cozy relations between politics and business.