By Hong Soon-do, Beijing correspondent, AsiaToday
The United States and China, which temporarily improved their uncomfortable relations with the meeting between Presidents Donald Trump and Xi Jinping on April 6-7, are heading for trouble again due to differences in understanding of various issues. Their relations are worsening so fast considering the fact that the two countries have set up a new "100-day plan" to solve pending issues such as trade imbalances. If things get worse, their relations could go back to the original position.
Such conclusion is not an exaggeration considering the issues that the two countries have been battling back and forward recently. According to Beijing's diplomatic sources on Tuesday, one of the biggest issues would be defense issues in Taiwan. It suddenly emerged as a pivotal issue between the two countries when US Secretary of Defense James Mattis underscored Washington's responsibility to defend Taiwan and its willingness to provide weapons at an Asian Security meeting held in Singapore on Saturday. China immediately opposed to his remarks. In a statement on Monday, Chinese Foreign Ministry spokeswoman Hua Chunying called Mattis's comments "irresponsible" and demanded to stop selling weapons to Taiwan. The two countries are likely to continue wordy war over this issue.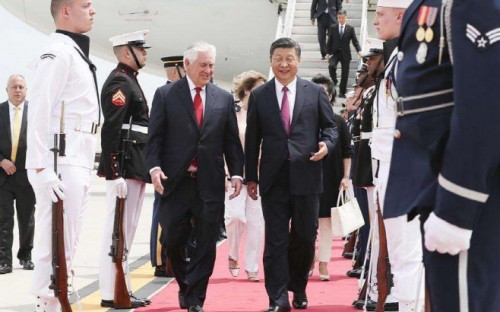 US Secretary of State Rex Tillerson welcomes Chinese President Xi Jinping who arrived in Florida for first meeting with US President Donald Trump on April 6. Until this time, relations between the two countries showed signs of improving./ Source: Xinhua News Agency
We should also mention the differences in the perception of the Tiananmen Square massacre, which commemorated the 28th anniversary on June 4. On the eve of the 28th anniversary of the incident, US Secretary of State Rex Tillerson called for a full accounting of the crackdown on pro-democracy protestors in Beijing. The next day, China expressed strong dissatisfaction, saying that the U.S. side interfered in China's internal affairs. It is certain that the bilateral relations will become more awkward as the Tiananmen issue is expected to heat up for a while.
In addition, the two countries are also showing sharp differences in the THAAD deployment in South Korea and the issues related to South China Sea. If the current issues reemerge at the same time, the 100-day action plan could exist in name only. Prof. Fang Chang Ping from Renmin University of China said, "China believes that the US's excessive intervention in Asian affairs will ultimately oppress China itself." He explained that China will naturally resist more if the U.S. shows stronger attitude. It seems to be only a matter of time before the U.S.-China relations strain again.