By Hong Soon-do, Beijing correspondent, AsiaToday
As China's economy is trembling, bankruptcy fears are growing among companies in China. What's worse is that even promising, high-quality companies are faltering as well. If things go on like this, bankruptcy could become common in the Chinese economy.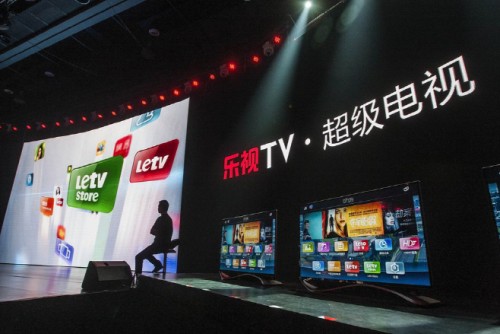 LeEco, which is reportedly experiencing financial difficulties, has recently unveiled its new TV product. The company is facing a cash crunch./ Source: The Economic Observer

Such conclusive outlook would be comprehensible if you look at the realities of those top-ranking, promising companies at risk of bankruptcy. According to China's powerful economic magazine The Economic Observer (also known as Jingji Guancha Bao) and other Chinese media outlets, we should first mention LeEco, the parent company of China's Netflix Leshi. Based on the success of Leshi established in 2004, the company has been expanding its presence in various fields including smartphones, electric cars, TVs, virtual reality (VR) devices and clouding. However, the company's fast expansion has led to financial constraints.
Moreover, the debt ratio that the company should pay back to the financial sector is known to be around 500%, which is definitely not easy to handle. No wonder many news reports and the business circles forecast that the company's cash cow Leshi is heading toward bankruptcy. This is the main reason why LeEco co-founder Jia Yueting recently resigned as CEO of Leshi.
Tianjin FAW Xiali Automobile Co., which was once called a major automobile company boosted by high popularity of local brand Xiali, is in a similar situation. It has been struggling for four consecutive years. The cumulative deficit is estimated to reach 10 billion yuan (approx. $1.47 billion). If this is the case, it's not strange to see it go bankrupt soon. In fact, many are now talking about kicking Tianjian FAW Xiali out of the stock market.
Huishan Dairy, one of the leading companies in Liaoning Province, has reportedly received default notification from its creditor HSBC for failing to settle the debt of around 10 billion yuan (approx. $1.47 billion), which was recently due. We can say that it legally went bankrupt. Besides, there is little possibility of revival considering the fact that the troubled milk producer has not enough assets to cover the debts.
As we can see, there are many reasons why bankruptcy fears are hitting in China. Above all, one of the biggest reasons would be many companies taking on debt to expand their business excessively. Another reason would be excessive competition among companies which eventually leads to weakening competitiveness. However, the biggest reason seems to be the bubbles in almost every sector of the market. Perhaps, it's not an exaggeration to prospect that bankruptcy of companies will be a part of the Chinese economy in the future.