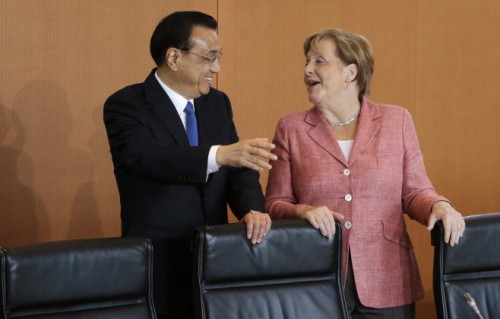 Source: AP, Yonhap News

By AsiaToday reporter Jisu Kim
Germany's Chancellor Angela Merkel is looking for new allies in Asia, including China and India. Following her harsh comments on U.S. President Donald Trump, Merkel is seeking to build a third world alliance.
German chancellor Angela Merkel has welcomed Chinese Premier Li Keqiang, who visited Germany on May 31, Bloomberg News reported. During his visit, Li called for joint efforts in the face of global uncertainties, anti-globalization sentiment and rising protectionism in the world. The two held bilateral talks at the Chancellery in Berlin on June 1. Li's visit presents "an opportunity for China to demonstrate its leadership on global issues from free trade to climate change at a time when the U.S. is turning inward," Bloomberg News reported.
Li is the second Asian country leader that Merkel has met this week. On May 30, she met Indian Prime Minister Narendra Modi to boast their friendship. She welcomed India's push for EU-Indian free trade agreement, and praised the country saying, "India wants the world not just to be interconnected but also that it should be sensibly run." Modi responded, "Our relations is destined. Germany will always find India as powerful, prepared and capable partner." Following their talks, the two sides reached a number of agreements on climate change prevention, economic cooperation, and more.
Foreign Policy said Tuesday that Merkel is signaling that Germany can do well without its traditional allies U.S. and Britain. Trump's Europe visit last week caused tensions with Merkel. During his visit, Trump denigrated the role of the EU, criticized Germany's trade policy, and declared that he would withdraw from the Paris climate change agreement. As the U.S. relations has become uncertain, German and other European leaders are turning to China and other Asian countries. Zhang Baohui, professor of international relations at Lingnan University in Hong Kong, said, "Europe in general and Germany specifically are collectively experiencing a paradigm shift in their perceptions of U.S.-Europe relations."
Recently, Merkel has repeatedly pointed out that Europe and the United States are drifting apart. Disappointed after meeting with Mr Trump at NATO and the G7, she said, "Europe can no longer rely on the U.S." She also said that Europe should find a new alliance. "The times in which we can fully count on others are somewhat over." German ambassador to China Michael Clauss told the South China Morning Post (SCMP) that Germany and EU are paying close attention to Asia recently. Clauss said Li's trip, followed by Chinese President Xi Jinping's Germany visit in July for the Hamburg G20 summit, showed that both Germany and China are aware of the importance of strengthening their ties despite differences over several issues, such as Beijing's bid for market economy status.
Experts from China and Europe say both Chinese and European sides feel keenly the necessity of strengthening relations urgently. Wang Yiwei, a former Chinese diplomat to the EU and currently a Renmin University scholar, said China needs to stress the Chinese leadership's credibility by strengthening EU ties ahead of the 19th National Congress of the Communist Party this fall. Insa Ewert, a research fellow at the German Institute of Global and Area Studies (GIGA), said Germany's approach with China and India presented "a great opportunity for the EU to develop a coherent Asia strategy, which it lacked."