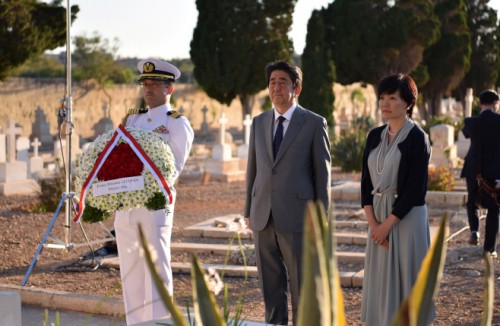 Japanese Prime Minister Shinzo Abe visited Malta on Saturday after attending the G7 summit in Sicily, Italy. During his stay, he visited the Kalkara military cemetery and paid tribute to the memory of the Japanese military personnel who died during the First World War./ Source: Reuters, Yonhap News

By Tokyo correspondent Um Soo-ah
Japanese Prime Minister Shinzo Abe visited Malta, a small island country in the Mediterranean, after attending the G7 summit held in Italy on May 26 and 27.
The Nihon Keizai Shimbun reported Sunday that Abe went to Malta to pay tribute to the victims at the cemetery for the Imperial Japanese Navy's war dead in Malta.
The official schedule was for talks with Maltese Prime Minister Joseph Muscat, but it was primarily aimed to visit the cemetery of Japanese sailors and officers who died in Malta 100 years ago. This was the first time a Japanese Prime Minister visited the island nation.
This year marks the 100th anniversary of the 1917 tragedy during the First World War where nearly 60 Japanese sailors in their naval destroyer Sakaki were killed by German forces.
Malta, which is situated at the southern coast of Sicily, was under the rule of the British Empire in the 19th and 20th centuries. During WWI, the Japanese navy stationed in Malta to participate in the Battle of the Mediterranean at the request of Britain under the Anglo-Japanese alliance.
Abe shared his thoughts on Malta visit on his Facebook, "I prayed that their souls rest in peace with many thoughts. I told them that Japan is trusted in the world."
He also discussed the visit to the cemetery during talks with Prime Minister Muscat. Abe stressed, "Thinking about the remarkable activities of the ancestors at the time, I decided to contribute to the active peacemaking based on international cooperation and the peace and stability of the international community."
Abe's associates said his Malta visit was to revive the shining history of Japan, which has been a target of reflection and apology after the Pacific War.
It is read as a strong commitment to revise Japan's Constitution. Abe is aiming at revising Article 9 of the Constitution, which stipulates the existence of the Self-Defense Forces (SDF), to put into force by 2020.
He wants to create an additional paragraph of the article to clearly mention the existence of the SDF while keeping the first and second paragraphs intact. The reason behind such decision seems to be to appease opposition by keeping the first and second paragraphs that renounce Japan's right to wage war and ban the right to maintain military forces.
However, Abe's constitutional amendment drive is not winning popularity. The constitutional democracy meeting, which is composed of Japanese constitutional scholars, criticized on May 22, "The reason or need of the proposal is unclear."
According to a national survey conducted by the Mainichi Shimbun on May 20-21, 59% of the respondents said it's not necessary to rush to discuss the amendment, while only 26% said it should be hurried.