By Hong Soon-do, Beijing correspondent, AsiaToday
"China is like fate to Korea. You would choose your neighbors if you could move anywhere you like, but that's not what you can in the real world. Then you should get along well with your neighbors. There is no point to be in conflict with each other. The conflict over the THAAD deployment is a challenge that both countries must overcome. That is why we continue our travel business despite economic difficulties."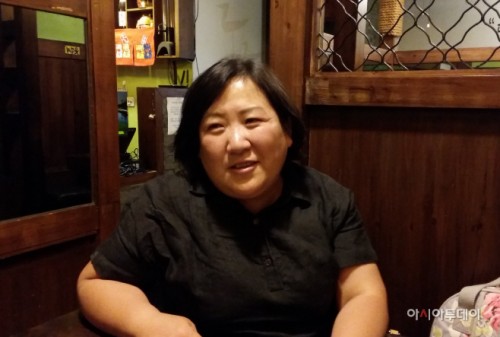 Jeong Won-soon is the CEO of travel agency Baobu, which is one of the top travel agencies in Beijing that specialize in Gubei Water Town tours and Inner Mongolia grassland camping./ Photographed by Jeong In-seo
Jeong Won-soon, a 53-year-old CEO of travel agency Baobu that has been working for 20 years in the travel industry in Beijing, has been hit directly by China's THAAD retaliation this year. The sales were halved due to a sudden drop in the number of Korean customers who were reluctant to travel to China. Besides, the situation in the future isn't so optimistic. If this is the case, the business should be closed. However, Jeong said, "I believe THAAD retaliation is a passing rain shower. I don't think China will be clinging to its retaliatory moves forever. By then, more Koreans will visit China. Who would provide the right service for them if we don't?" Perhaps, the pride of being the only licensed Korean travel agency in China seems to be the driving force behind Jeong. Her insistence is not irrelevant with the fact that she returns to Korea on Monday to participate in the 32nd Korea International Tourism Exhibition (KOTFA 2017), which is slated to be held from June 1-4 at COEX in Seoul.
Baobu is said to be the best travel agency in China specialized in Beijing's newest theme park Gubei Water Town, also known as Venice of China, and Inner Mongolia grassland camping. "Only a few agencies provide tour services specialized in Gubei Water Town and Inner Mongolia tours just like ours. The software we provide to our customers is excellent. There's a reason why we are the only agency that receives various benefits from the operation team of Gubei Water Town. We aim to provide such benefits to all of our customers," Jeong said with confidence. It seems that the agency will be able to regain its competitiveness if China's THAAD retaliation is over.
Jeong is optimistic that China's THAAD retaliation is bound to end sooner or later. "China has much better feelings about Korea than Japan. It seems to me that many ordinary Chinese agree these days with the idea that the THAAD deployment is inevitable. I think that everything will be back to normal before the end of this year."