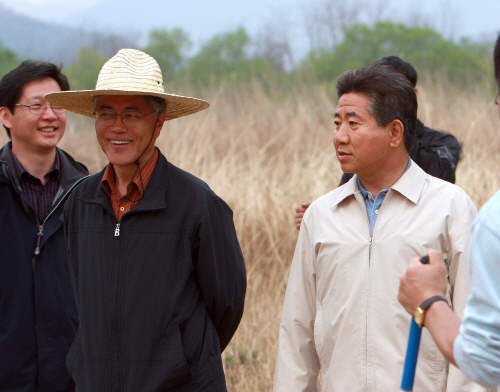 Former President Roh Moo-hyun, right, talked with Moon Jae-in, the then Democratic Party candidate and now the new president of Korea, in his hometown of Bongha Village in South Gyeongsang Province./ Yonhap News

By AsiaToday reporter Maeng Sung-kyu
More and more people are gathering to mourn former President Roh Moo-hyun since the inauguration of the Moon Jae-in government. Many citizens gathered at the civic cultural festival held at Gwanghwamun Square last weekend, and many are expected to visit Roh's hometown of Bongha Vilage in South Gyeongsang Province to mark the eighth anniversary of his death on May 23.
This time, President Moon Jae-in will be attending the memorial ceremony for the first time as the incumbent president. Moon is expected to make a speech about overcoming regionalism and seeking national integration that Roh had sought all his life. Back on April 3, the day after he was elected Democratic presidential candidate, Moon visited the Bongha Vilage and said, "I carefully thought about the world that former President Roh had dreamed of, the world worth living in." After paying tribute to Roh Moo-hyun on January 29, Moon met Roh's wife Kwon Yang-sook and said, "I'd like to become a candidate who is supported in both Yeongnam and Honam."
This year, the ceremony is even more meaningful because Moon was Roh's closest associate, later serving as his chief secretary at the Blue House. The Democratic Party, which has become the ruling party, is reportedly planning to notify to the late President Roh Moo-hyunoh of winning power back and to express their will to integrate the people. As a result, most of the Democrats will be visiting the Bongha Village, except for those who are in overseas.
Kim Hyun, the spokesman for the Democratic Party, said, "We have spent many years with guilty feeling that we have failed to save Roh, and the eighth anniversary is a mixture of sadness and joy. It's even more meaningful this year because of the launch of the Moon Jae-in administration, which will open the era of decentralization and reforms of the prosecution, media, and national intelligence service that former President Roh dreamed of."
The People's Party leadership, including former party head Ahn Cheol-soo, floor leader Kim Dong-cheol, former party leader Park Jie-won and former floor leader Joo Seung-yong will attend the memorial ceremony of Roh. Ahn's visit will be his second political move since the presidential election following his attendance of the commemoration ceremony of the 37th anniversary of the May 18 Democratization Movement. Previously, Ahn visited the Bongha Village on April 22 and said, "We must stop the era of divisional conflict and work together." Ahn will attend the memorial ceremony and meet those who helped him during his presidential campaign in Gyeongnam and Busan.
Meanwhile, South Chungcheong governor Ahn Hee-jung, Seongnam mayor Lee Jae-myung and former health and welfare minister Rhyu Si-min attended the civic cultural festival held at Gwanghwamun Square last weekend in commemoration of the 8th anniversary of Roh Moo-hyun's death.