By Hong Soon-do, Beijing correspondent, AsiaToday
Tsai Ing-wen, the President of Taiwan and the Chairperson of the Democratic Progressive Party, should be very excited now. She is about to mark the 1st anniversary as the island's leader on May 20 after defeating Eric Chu of the ever ruling Kuomintang last year. Furthermore, Tsai has to handle a lot of things over the next three years with great power. However, things aren't as rosy as they seem. Rather, we could say there is more trouble ahead for Tsai.
According to Beijing sources familiar with Taiwan relations on Tuesday, such assertion is not an exaggeration. Most of all, Tsai's popularity has been falling since she took office. It's been merely a year since her inauguration, but her approval rating is in the 20% range. This is making the Tsai administration tougher to administer the country's affairs.
In fact, the atmosphere in Taiwan is brutal. The reality is that not only the Kuomintang's but also the Democratic Progressive Party supporters are protesting and criticizing as the Tsai administration is seen as incompetent. Some even mention the word "impeachment."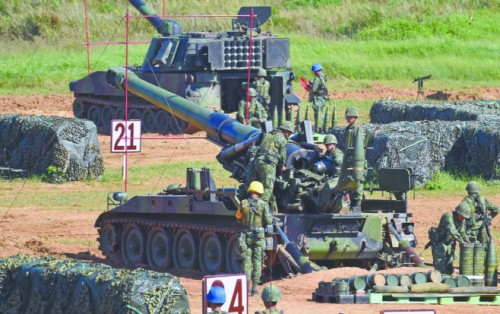 Taiwan to hold the 33rd Han Kuang military exercise for five days starting on May 22 in preparation of a blitzkrieg attack by China's PLA forces./ Source: Taiwan's UDN
The fact that the 33rd Han Kuang military exercise will be held for five days starting on May 22 to test their response to simulated threats from China, shows that the current situation in Taiwan is quite serious. Since Tsai will never accept the one-China principle, also known as the 1992 consensus, the Taiwanese military believes that it's nothing unusual for China to decide whether to use force or not. According to the Taiwanese media reports, Taiwan is fully ready to use high-tech weaponry and mobilize aircraft carrier upon China's use of military force. We could say that the possibility of an armed conflict between China and Taiwan is now beyond the level of concerns.
The problem is that the status of Tsai and Democratic Progressive Party don't seem like they're going to improve anytime soon. In particular, they aren't even finding the clue to the escalating cross-strait tensions. It's because China is so firm about its position claiming that there is no other solution than affirming the 1992 consensus. This explains why there are mentions of Tsai's impeachment among Taiwanese politicians.