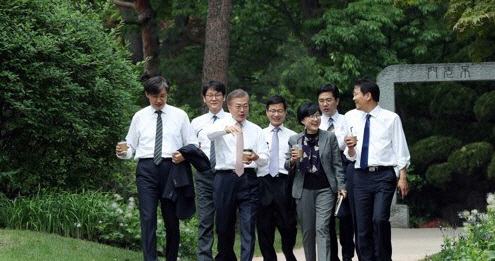 President Moon Jae-in walks with his newly appointed aides at Cheong Wa Dae in Seoul, Thursday. They are, from left, Cho Kuk, senior secretary for civil affairs; Kwun Hyuk-ki, head of Cheong Wa Dae Press Center; Moon; Lee Joung-do, secretary for administrative affairs; Cho Hyun-ock, senior secretary for personnel affairs; Song In-bae, a Democratic Party of Korea official; Yoon Young-chan, senior secretary for public affairs; and Im Jeong-seok, chief of staff./ Source: Yonhap
By AsiaToday reporter Lim Yoo-jin
South Korea's new President Moon Jae-in, who declared the era of the Gwanghwamun president, is showing his willingness to communicate with the public by taking selfies freely with citizens after the inauguration ceremony. Moon also took a walk after having lunch with senior presidential secretaries, demonstrating that he communicates with the people and his key secretariat members as a new South Korean leader.
Moon had a luncheon with key secretariat members, including Senior Civil Affairs Secretary Cho Kuk, Senior Public Affairs Secretary Yoon Young-chan, Senior Personnel Affairs Secretary Cho Hyun-ock and Administrative Affairs Secretary Lee Jeong-do at Cheong Wa Dae, Thursday at 12:30 p.m.. They sat around a round table and took off their jackets for a talk. What was quite surprising was that Administrative Affairs Secretary Lee sat on the opposite side of the president. It was highly unusual to see a secretary sitting with the president at the presidential palace. At 1:20 p.m., Moon took a walk and had a tea with them. In the past, it was customary for Cheong Wa Dae not to disclose such schedule or disclose it later for security reasons. The new president urged senior presidential secretaries to aid him in order to conduct state affairs.
Moon, who went straight to work in the following day of the snap election Wednesday, headed back to his private residence in Hongeun-dong in northwestern Seoul in the evening. The security personnel were minimized to six or seven and the guards around the president's residence treated citizens friendly rather than guarding tightly. However, they guarded with detection dogs 30 minutes before the president's departure in order to prepare for unexpected situations.

◇ The president who gets out of his bulletproof car to shake hands and take selfies with his supporters
On his way to work on Thursday, Moon greeted citizens and emphasized communication with the people. He came out of his residence around 9 a.m., and got in a bulletproof vehicle. The car seemed to move forward a few meters, but it suddenly stopped. Then Moon got out of his car and approached to some 20 residents and greeted. The residents and supporters were surprised and applauded for the president's somewhat unprecedented move.
Moon grabbed a citizen's hand and said, "It was annoying, right?" He also responded to a storm of selfie requests of the residents, and said, "It was a great shot." The citizens cheered, saying "You are really a president for the people," and "Please smile in the end when you come back," Moon responded, "Thank you." When an old woman tried to make a big vow to him, he raised her up. His guards also did not over-guard him or over-control his physical contact with the citizens. After greeting citizens for about three minutes, Moon headed to Cheong Wa Dae.
Such "open security" is reportedly due to Moon's special request. Prime Minister-designate Lee Nak-yon held a retirement briefing session Thursday at the South Jeolla provincial office, and said, "After announcing the personnel appointments yesterday, the president made a special request to each of the chiefs. Moon repeatedly asked his new security chief Joo Young-hoon to guard him more flexibly." Lee said, "I was able to feel his eagerness to get closer to the people for the era of the Gwanghwamun president."
During the inauguration ceremony Wednesday, Moon drew attention for carrying out extraordinarily flexible security service. Moon's public-friendly image by putting down his authority, is gaining public favor. The leaders of the ruling and opposition parties as well as ordinary citizens took pictures of the president with their phones, while the president created a friendly atmosphere by going beyond the designated area to take selfies with the public. This can be seen as an expression of the willingness of becoming a president who communicates with the public and the National Assembly that he has promised since the days of his presidential candidacy.