By Hong Soon-do, Beijing correspondent, AsiaToday – China immediately reacted violently as expected after South Korea and the United States moved key parts of the Terminal High Altitude Area Defense (THAAD) including radar and launchers to the planned deployment site in the rural southern town of Seongju, North Gyeongsang province, on Wednesday morning. In fact, China seems to be so mad about this.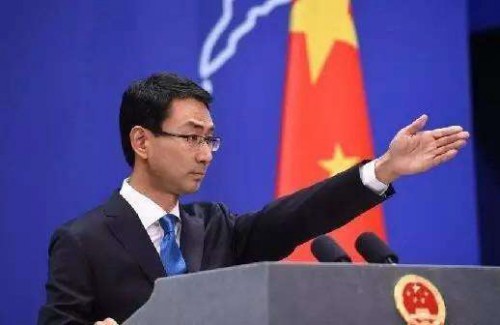 Chinese Foreign Ministry Spokesman Geng Shuang stood negatively against THAAD deployment at the regular briefing session held on Wednesday./ Source: Chinese Foreign Ministry website
First of all, the Chinese Foreign Ministry responded negatively, requesting immediate cancellation of the THAAD deployment while claiming that it's raising regional tensions. "The THAAD deployment in South Korea will harm strategic balance and further stimulate tensions on the Korean Peninsula. We have expressed serious concern to the US and South Korean sides," Chinese Foreign Ministry Spokesman Geng Shuang said in a briefing on Wednesday. "China strongly urges the US and South Korea to cancel the THAAD deployment and withdraw relevant equipment."
The reaction on social media was more intense. People on Weibo, China's version of Twitter, left comments like, "If you're Chinese, boycott South Korea," "It's not that I oppose the THAAD deployment, rather I don't want it to be placed in front of my house," "I wish there was no war," "I wish for peace in the world," "Honestly, the U.S. is worse than South Korea," and more.
Compared to this, however, the media reports were relatively calm. They didn't shift their position of opposing the THAAD deployment, but they rather focused on reporting facts as if they had anticipated it. Nevertheless, China's Global Times did not forget to mention that there could be a setback in the U.S.-China cooperation for resolving the North Korean nuclear issue in the future.
Considering its response so far, China's position against the THAAD is likely to continue. In addition, China's unofficial sanctions against South Korea are likely to continue. Prof. Ma Xiangwu of the Renmin University said, "China's pressure on South Korea will become more severe due to the THAAD deployment. Personally, I believe that the pressure won't stop this year and will continue until next year." We could now say that the THAAD deployment has not brought the serious conflict between South Korea and China to the matter of the present, not the future.