By Hong Soon-do, Beijing correspondent, AsiaToday – China's global anti-corruption operation, dubbed "Fox Hunt," has achieved remarkable results. China arrested 40 of its "top 100" most wanted, leaving only 60 foxes to be hunted. These criminals are also expected to be arrested near future considering the authorities' willingness.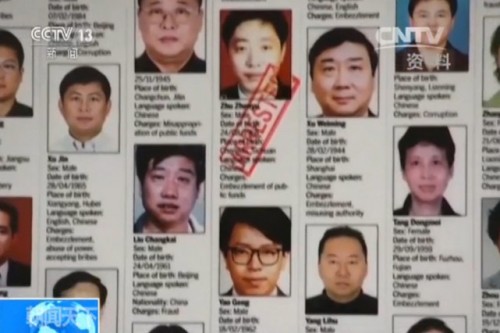 The corrupted fugitives that have been arrested and repatriated through Operation Fox Hunt. More criminals are expected to be repatriated as a result of the Chinese authorities' willingness./ Source: captured image from CCTV

According to a report by the Beijing Times on Tuesday, there is a simple reason why Fox Hunt, officially called the 'Sky Net' operation, is achieving more than expected. Most of all, it's related with the fact the willingness of the Chinese authorities is so strong. They surely do especially when it comes to hunting China's most wanted fugitives.
Another reason comes from Xi Jinping's firm stance on anti-struggle campaign. His strong determination is well seen from the fact that he has been frequently crying out for "congyan zhidang"(從嚴治黨), which means comprehensively strengthening discipline of the Party. In addition, Beijing's recent appointment of Xi's top aide Li Shulei as the new chief of Beijing's Commission for Disciplinary Inspection, which is in charge of the Fox Hunt operation, can be understood in the same context.
Statistics show that the operation is working well. In 2016, a total of 1,032 fugitives were arrested and repatriated from over 70 countries. The amount of black money returned was 2.4 billion yuan (US$348 million). But the more important thing is that the operation will clearly serve as a reminder to those future-corrupted officials that it's useless to flee overseas after committing corruption.
The fox hunting is not going to weaken in the future. The Sky Net 2017, officially launched back in March, makes it clear that this assertion is not groundless. Wang Defu, executive of the Public Security Bureau of Chaoyang District in Beijing said, "The Sky Net project will continue until the criminals involved in corruption recognize it's useless to flee abroad. It will be intensified and never be weakened. There is no paradise on earth for corrupted officials to stay without worries."