By Hong Soon-do, Beijing correspondent, AsiaToday – As the tensions on the Korean Peninsula have further heightened with North Korea's attempt to launch a missile on Sunday, China is taking urgent actions that were hardly seen in the past. Considering its efforts, China seems to be very aware of how serious the present situation is.
Such assertion is not an exaggeration considering the fact that Chinese President Xi Jinping will surely send a high-ranking envoy to Pyongyang this week. Beijing's diplomatic sources said on Sunday that the special envoy is highly likely to be Chinese Vice Premier Zhang Gaoli, a Korea specialist who studied in North Korea. Another candidate is Ding Xuexiang, a political aide of Xi Jinping and currently director of the General Secretary's Office.
China's decision to send a special envoy seems to be related with the urgent situation of the Korea Peninsula, where the risks of the United States' pre-emptive strikes against North Korea are. "This is perhaps the most difficult situation for the Korean Peninsula since the Korean War. A dialogue to get a taste of North Korea's real intentions is urgently needed. China is the only country that can do this at the moment," said Fang Chang Ping, a professor at Renmin University. He stressed that it won't be strange if China sends a special envoy. Considering the fact that Wu Dawei, who recently visited South Korea as China's Special Representative for Korean Peninsula Affairs to meet South Korean government and senior officials of the ruling and opposition parties, dropped some comment about dispatch of a special envoy, Vice Premier Zhang Gaoli's Pyongyang visit should be seen as a fait accompli.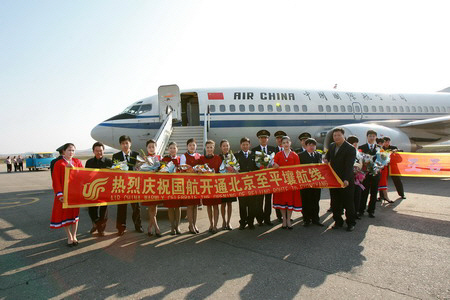 An Air China plane first landed at Sunan Airport, Pyongyang in March 2008. It will suspend flights between Beijing and Pyongyang starting on Monday./ Source: Xinhua News

The fact that Chinese travel agencies recently stopped selling trips to North Korea can be understood in the same context. According to Beijing sources on Sunday, most of Chinese travel agencies, including the country's largest state-owned tourism enterprise China International Travel Service (CITS) and the country's largest online travel company Ctrip.com, had halted North Korea packages. In addition, Air China, the only Chinese airline that provided flights to North Korea, will no longer provide flights from Beijing to Pyongyang starting on Monday, April 17.
That's not all. The fact that Chinese and Russian navy are shadowing the U.S. aircraft carrier USS Carl Vinson, which is navigating near the Korean Peninsula, to track information proves that China is moving urgently. It seems that China is doing so in an attempt to avoid a worst-case scenario.
However, even if China moves in such an urgent manner, the tensions on the Korean Peninsula are likely to ease rapidly. It's because the confrontation between the U.S. and the North Korea seems far intense than ever before. Nevertheless, China's efforts to prevent the worst are likely to continue.