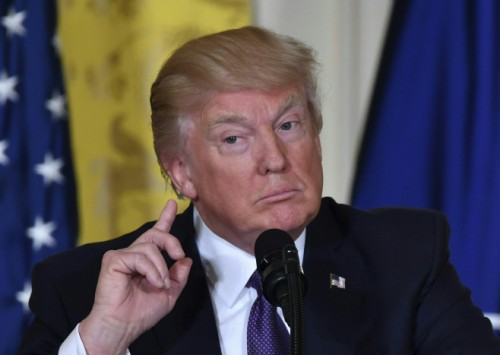 Source: AFP, Yonhap
By AsiaToday reporter Heo Go-woon - U.S. President Donald Trump's diplomatic policy to prevent North Korea's nuclear and missile threats by pressuring China based on its powerful military power is put to the test. Many are watching whether Trump's pattern of "escalate to de-escalate" will work on the Korean Peninsula.
Washing Post's Josh Rogin described Trump's foreign policy doctrine as "escalate to de-escalate" in his column last month. To de-escalate the highest tension of North Korean nuclear threat, the U.S. has escalated tension by attacking Syria and moving the aircraft carrier USS Carl Vinson to the Korean Peninsula.
The biggest difference between Trump and his predecessor Barack Obama is his relationship with China. While Obama tried to cooperate with China as much as possible, Trump pressed China to do more to curb North Korea's nuclear program, saying, "If China doesn't deal with North Korea, we will."
"A growing number of people who are critical of Trump and even Republicans are agreeing with Trump's pressure on China," said Go Myung-hyun, a research fellow at the Asan Institute for Policy Studies. "The United States' China policy related to North Korea will be mainly about pressing China."
Trump's tough stance is expected to bring some changes of mood in China. "More and more Chinese support the view that the government should enhance sanctions over Pyongyang's nuclear activities," reported China's Global Times on Wednesday. "If the North makes another provocative move this month, the Chinese society will be willing to see the UNSC adopt severe restrictive measures that have never been seen before, such as restricting oil imports to the North."
However, it's still unclear whether Trump's diplomacy can ultimately change China's attitude toward North Korea. Many in diplomatic circles believe China will show a sense of commitment, but it won't take strong measures that the U.S. expects, such as cutting off oil supplies to the North, unless there are special reasons.
"China won't be able to give up North Korea as a strategic buffer zone," Go said. "Even if North Korea makes a significant provocative move, such as a sixth nuclear test, China could strengthen sanctions against the North. However, it won't abandon North Korea or attempt to topple the North Korean regime."
Pyongyang's state media reported Thursday that North Korean leader Kim Jong-un watched a military drill targeting South Korea, showing opposition to Korean-American military pressure. Considering the attitude of the North, experts say that China will cooperate with the United States.
"If Xi Jinping gets strong pressure from the United States, he can use it to reinforce his position while repulsing it externally," Go said. "Considering the fact that China has been always showing a willingness to compromise in its relationship with the United States, it won't continue to confront with the United States."
"We can't say that Trump's foreign policy is a success just because it stops North Korea's nuclear program and missile testing in the short term. The important thing is that the U.S. will continue to prod China to pressure North Korea, and North Korea will continue to be under pressure in the long term regardless of how the China-U.S. cooperation would be."