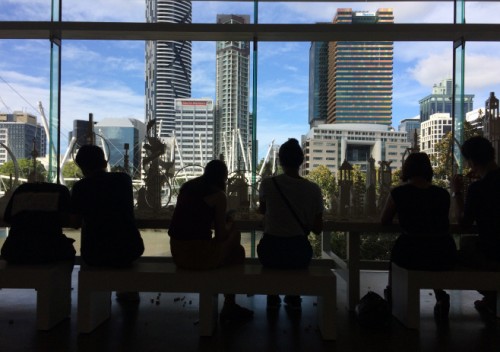 Source: AP, Yonhap

By AsiaToday reporter Jisu Kim - Home prices are skyrocketing in the Asia-Pacific region, making it hard for ordinary people to buy a home. As a result, governments in this region are working hard to come up with solutions.
Surging home prices are pushing people further out of Sydney, Bloomberg News reported Sunday. Akhilesh Mehta, a 48-year-old accountant who takes a bus everyday for the hour-and-a-half commute from his office in Sydney to his home on the city's outskirts, gave a reason for his long commute: when it came to buying a family home, the city's fringes were "the only place I could afford."
Urban workers in Australia have flocked to Sydney, causing a shortage of housing in the region. Sydney's house prices have risen 19% over the past year, making the city the world's second-most expensive property market. As a result, many young people cannot even consider buying a house.
New South Wales Premier Gladys Berejiklian said house price stabilization is one of her priorities when she took office in January. "We are convinced if we put downwards pressure on prices through supply, that's the best way we can solve it as a state government," Berejiklian said in an interview on April 6. The Premier is planning to build a subway linking Rouse Hill to the city with A$53 billion ($40 billion) to stop house prices from soaring and reduce commuting time for workers.
Hong Kong is not an exception. The Straits Times (ST) reported that house prices in Hong Kong have increased by 364% since 2003. The median monthly household income went up by 61%, leaving many people no longer dream of owning a home. A typical Hong Kong apartment costs 18.1 times gross annual median income, according to research group Demographia. It means that you need to save your income for more than 18 years without spending a single penny in order to buy an apartment. The ST explained that Hong Kong's soaring house prices and living costs had some influence on the city's Umbrella Revolution, which started in 2014 demanding direct election system and full democracy from Beijing.
Carrie Lam, who will take over as chief executive on July 1, plans to resolve the housing problems of 7 million Hong Kong citizens by increasing housing and land supply. However, Alice Mak Mei-kuen, a member of Legislative Council of Hong Kong, predicted that the real estate developers from the mainland would be pouring in, making Mrs. Lam's goal very difficult to achieve.
Due to its soaring real estate prices, many have been projecting the collapse of mainland China's house bubble for a long time. According to global real estate site Mansion Global, nine out of 10 cities in real estate consultancy Knight Frank's house price growth list released on earlier this month were in China. In particular, the housing prices in Nanjing recorded a 41.15% increase last year.
According to estimates by the Renmin university research team, China's mortgage loans reached at least 2.3 trillion yuan for the first half of this year. " Lillian Li, senior analyst at Moody's told CNBC on Apr. 3 that the share of mortgages in bank credit is increasing. "It has increased vulnerability of the financial system to a property-related shock."
The Beijing Municipal Commission of Housing and Urban-Rural Development announced measures to cool property market, reported Xinhua News last month. They decided to raise the minimum down payment ratio for second residential houses to 60% from 50%. Beijing took measures to limit lending by regarding those who have no home but have housing loan records as second home buyers.
India, one of the most densely populated countries, can't help but face housing problem. The House Price Index (HPI) recently released by the Reserve Bank of India (RBI) showed that home prices in major Indian cities have risen by an average of 13.86% since 2010. According to the data, house prices in Mumbai rose 13.94% in past five years, 18.14% for Delhi, 18.41% for Kolkata, and 20.64% for Lucknow. India's Economic Times said that high interest rates and property prices are hindering the middle-class from buying a house.
A survey by Indian Mortgage Guarantee Corporation (IMGC) found that only 32% of Indians live in self-purchased homes, while 38% live with their parents and the rest 30% live in a rented house.
Some analysts said that Prime Minister Narendra Modi's currency reforms in November 2016 helped bring housing prices down despite many side effects. "Since black money played a big role in real estate transactions, this currency reform is likely to hurt the real estate market," said Sonal Varma, a Nomura economist in Mumbai, India. "This will have a positive effect in the long term," said Pankaj Kapoor, founder of real estate research consultancy Liases Foras.