By Hong Soon-do, Beijing correspondent, AsiaToday – As U.S. President Donald Trump is scheduled to host Chinese President Xi Jinping at a two-day summit this week, key agenda is becoming clear. The North Korean nuclear issue and China's THAAD retaliation against South Korea are expected to top the agenda. In this case, the two leaders are unlikely to reach an agreement on the issues.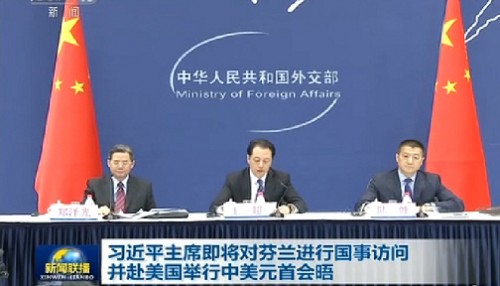 Chinese Foreign Ministry officials announced Xi Jinping's state visit for a summit with Donald Trump on April 1. The man on the right side is Foreign Ministry Spokesperson Lu Kang./ Source: CCTV
This prospect is not unreasonable considering the various circumstances reported in the media recently. According to Beijing sources on Tuesday, the White House has recently completed a review of North Korea policy, which will be discussed at the summit on April 6-7. The review is expected to be a hard one. Obviously, it will be handed over to Trump, and eventually informed to Xi Jinping.
Trump's recent remarks should not be overlooked neither. Conscious of the summit, he emphasized China's role in resolving North Korea's nuclear issue. At the talks, it is quite certain that he will be making controversial remarks based on this idea.
Apart from this, remarks by U.S. Ambassador to the United Nations Nikki Haley during an interview with ABC News on Sunday and the fact that Chinese State Councilor Yang Jiechi and U.S. Secretary of State Rex Tillerson had a phone call show that the North Korean nuclear issue will be one of the top agenda at the summit.
Needless to say, the leaders of the two countries are far more likely to contend than to come to conclusions as there is a definite difference of opinion between the two over the issue. However, there is much more optimism regarding trade issue as well as other pending issues than earlier expected. Trump told the Financial Times on Sunday that he has "great respect" for China and Xi JInping. In addition, Xi Jinping is expected to mention the "new type of great power relations" at the upcoming summit with hope for the establishment of a harmonious relationship with the U.S..
Therefore, the U.S. Department of the Treasury is far less likely to designate China as a currency manipulator in its currency report to be released this month. Besides, there is low risk of trade wars through a series of economic retaliatory steps. In short, the U.S. might recognize China's necessity and suggest a reasonable compromise.