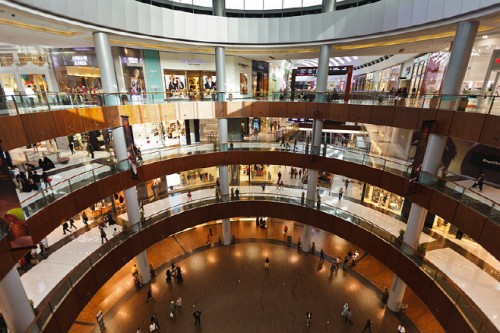 The Dubai Mall./ Source: Wikimedia commons

By AsiaToday reporter Kim Eun-young - Dubai's shopping mall business is about to face market saturation due to industry players' expansion projects.

Amazon purchased the Middle East's biggest online retailer Souq.com on Tuesday for an undisclosed amount, reported the AP. The announcement came a day after Dubai's Emaar, the largest state-run developer, announced it would buy Souq.com for $880 million, emerging as a strong competitor to Amazon.
The AP reported that the acquisition of Souq.com will enable Amazon to enter major Middle East markets such as the United Arab Emirates (UAE), Egypt, and Saudi Arabia. The company is expected to face intense competition with Emaar, which is about to launch online shopping mall noon.com.
In fact, Dubai's shopping mall business is reaching its peak following ceaseless online and offline investment and expansion strategies. Competition among offline stores is particularly intense.
Japan's Nikkei Asian Review warned Monday that Dubai's shopping mall operators are proceeding their ambitious expansion projects aimed at maximizing customer traffic ahead of the city's Expo 2020, arousing concern for market saturation.
Recently, new mega malls are being built in Dubai. Meydan One Mall, which is set to open in 2020, will feature more than 620 shops as well as the world's longest indoor ski slope and the world's largest fountain. Dubai's state-owned real estate developer Nakheel is building a large shopping mall on the Palm Jumeirah, an artificial island of the city.
Existing shopping malls are also expanding. The Dubai Mall, known as the world's largest shopping mall, is currently adding 90,000 square meter to the existing 350,000 square meters. The expansion project costs about $380 million, according to the mall operator Emaar. Nakheel's Ibn Battuta Mall, located near the Expo site, added 60 new shops after its expansion project last year and is currently undergoing another expansion project.
The market seems to be overheating. In a report released earlier this month, local real estate firm Core Savills pointed out that shopping mall industry's expansion projects are overheating. According to the report, the total floor area of shopping malls in Dubai is expected to increase by 25% within the next three years to 800,000㎡, indicating signs of saturation.
Some experts also pointed out that many malls except mega malls like The Dubai Mall will fall behind in the competition as there are hundreds of shops in major shopping malls and many of them overlap.
Another problem is that there aren't much positive factors that Dubai mall operators can depend on apart from the Expo. The economic outlook is not so bright as the price of oil, the UAE's main source of revenue, will not recover dramatically in the near future. Besides, UAE Dirham may rise alongside the dollar, suggesting that foreign shoppers' purchasing desires may decrease.