By Hong Soon-do, Beijing correspondent, AsiaToday – China, who's taking a full range of retaliatory measures against South Korea over the THAAD deployment, has reportedly arrived at a conclusion that the deployment of the missile defense system will be completed by the end of April. In response, it is certain that China will further intensify its retaliatory measures against South Korea by drastically limiting imports of intermediate goods in the semiconductor and chemical sectors.
This prospect is not an exaggeration given the fact that the Chinese authorities are closely monitoring the circumstance associated with the THAAD deployment in Korea. According to Beijing's high-ranking official on Thursday, China is currently analyzing the situation of the THAAD deployment in real-time by collectively bringing professional bureaucrats of related ministries such as foreign ministry and national defense ministry. After watching closely at the political situation of South Korea with a presidential election ahead and the component importing situation, China has reportedly come to a conclusion that the THAAD system may go through trial operation after May. Considering the situation so far, the Chinese authorities have no choice but to take a strong response. The official said, "Currently, the Ministry of Commerce, the Ministry of Science and Technology, the Ministry of Maritime Affairs and other ministries are seriously looking for ways to retaliate against Korea. I've heard that they will soon introduce informal, comprehensive measures, such as restricting intermediate goods."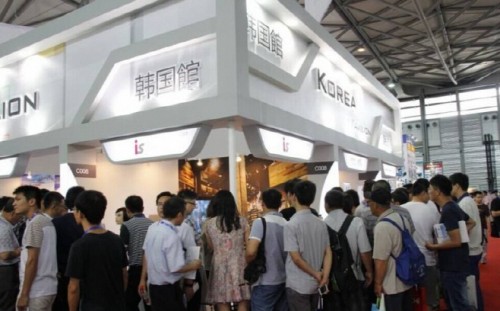 View of Korean booth at an electronics industry exhibition held in Shanghai last year. It's true that the electronics industry has played a big part in Korea's export to China, however its future may change due to China's retaliation./ Source: Computer magazine Calculator World
The official added, "80% of Korea's exports to China are intermediate goods. As a result, Korea's annual trade surplus is about $50 billion. However, things will change drastically if Chinese pressure begins." However, another official in the trade sector, said, "Korea's intermediate goods that are imported to China are cost effective. Chinese authorities are looking for alternatives in other countries, but it's not easy. There were such effort even before the THAAD deployment issue broke out. But they didn't obtain good results. If things go wrong, China can be hurt."
"In the long term, China will inevitably withdraw its restrictions on imports of Korea's consumer products, which account to nearly 20% of China's total imports, as well as its trip ban to Korea. You can tell from the fact that Chinese authorities are properly controlling anti-Korea protests and anti-Korean sentiments online," he added. It seems that China's THAAD retaliation is likely to continue by the end of April, but China may take a new dramatic turn near future if the situation seems difficult to reverse.