By Hong Soon-do, Beijing correspondent, AsiaToday – There is an increasingly loud call for self-examination within China about its intensive THAAD retaliation against South Korea and South Korean conglomerate Lotte. It seems that more people are starting to think that their country is being too tough on South Korea and Lotte while it's clear that North Korea and the U.S. are also to blame. If such atmosphere continues to spread, the Chinese-S. Korean THAAD conflict that seemed to last forever might be cooled down dramatically.
Although it looks like a subtle change, such atmosphere can be detected in the stance of the Chinese government. The statement of Chinese Foreign Minister Wang Yi at his annual news conference on Mar. 8 on the sidelines of the meeting of China's parliament in Beijing is a good example. While clearly making its position against THAAD, he called on North Korea to stop its nuclear and missile tests that were causing tension. Compared to China's previous claim that S. Korea was solely responsible for THAAD deployment, it is definitely a meaningful change of stance.
This atmosphere can be also seen well in the Mar. 9th press comments of China's nationalist daily the Global Times. The newspaper said some Chinese see the country's retaliatory actions over THAAD as extreme nationalism rather than patriotism, hinting its changed position unlike in the past when it only blamed South Korea and Lotte. Such comment is even more meaningful, considering that the Global Times has been reflecting the government's position the most actively in recent years,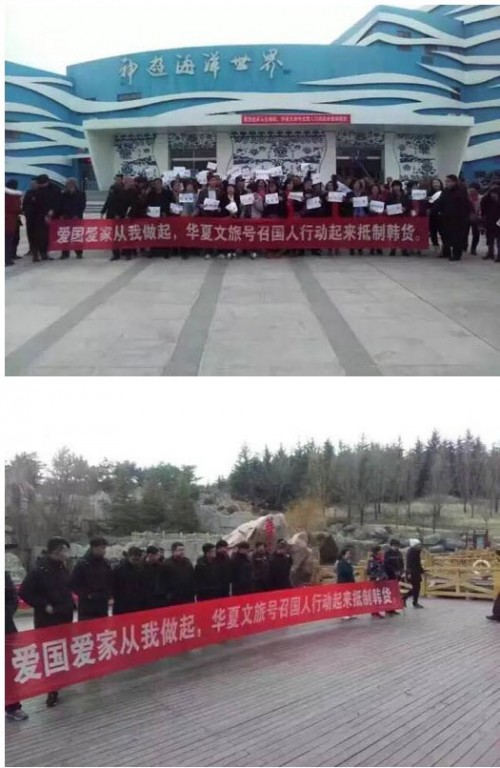 Chinese calling for a boycott of South Korean goods at a theme park in Weihai, Shandong province. It shows China's resentment against THAAD. However, there is an increasingly loud call for self-examination about these protests in China./ Source: Weixin
As reported by the Global Times, some bloggers and netizens in China are showing a negative attitude to the spread of anti-Korea protests and Lotte boycott. Song Lin, who runs an online Korean cosmetic store, wrote in his blog, "Isn't it the U.S. who's deploying the THAAD system? But why sanctioning South Korea? It's even more ridiculous to sanction companies. I will continue to sell Korean products in the future."
Of course, such atmosphere is not big enough to reverse the current situation. Still, it's true that Chinese anger and oppression measures against South Korea and Lotte are spreading across the country. However, there is certainly a positive aspect that there is the increasing rise of self-reflective voice over the situation.