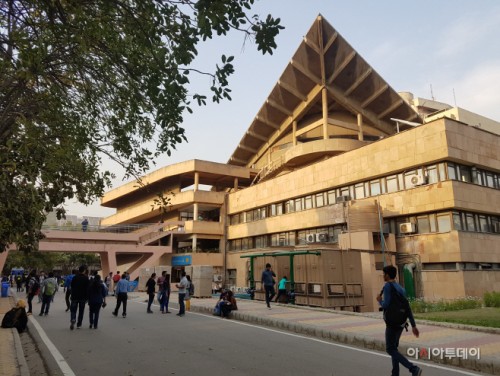 Students of the Indian Institutes of Technology (IITs) are reconsidering their studies and employment in the United States due to Trump's recent executive order on immigration and hate crimes./ Photographed by Jeong In-seo

By Jeong In-seo, New Delhi correspondent, AsiaToday – While U.S. President Donald Trump signed an executive order to restrict immigration from seven Muslim-majority countries on Mar. 6, there is growing criticism that the U.S. is not taking seriously about the violent attacks that occurred against Indians in the U.S. in the last two weeks.
On March 7, the Indian Institute of Technology (IIT-Delhi) was crowded with students despite it was 5 pm. Many students visited the library or en empty classroom. Some students were having a drink at a convenience store in front of the library. They talked happily about friends, crickets, and upcoming Holi, a Hindu spring festival. But their laughter did not last long because someone started to talk about Trump's anti-immigration executive order.
Anil Kumar, a graduate student at IIT-Delhi, said, "I wanted to work in the U.S. but not anymore." He told me about recent hate crimes in the U.S.. "Two people were shot and killed. Many seniors are studying and working in the United States. I wanted to study in the U.S. and get a job, too. But not anymore. I'm not sure to stay in a place full of hate crimes," he said. "America is also a country that started with immigrants. This anti-immigration policy is shaking their roots. I don't want to risk my life to seek the American dream."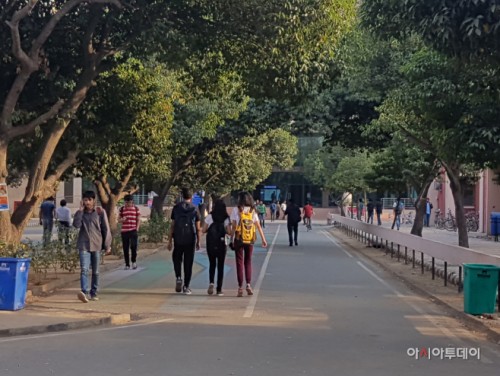 IIT students said, "No matter how much we want to study, we don't want to study where hate crimes take place."/ Photographed by Jeong In-seo
Manish, a graduate student at the same university, also criticized the U.S.' anti-immigration executive order and hate crimes. He said, "Many of my friends used to work hard to work in the U.S.. But they don't anymore." He continued, "Today I heard another news that Indian residents in the U.S. feel uneasy. It's not a must to work in America. It may be a wise choice to return to India rather than living with anxiety." He criticized, "70 percent of IT companies in the U.S. are made up of Indian people. I wonder how many of them will be able to run without them."
A student, who asked for anonymity said, "I heard that an Indian in the US was shot dead by a man who allegedly yelled 'Get out of my country.' It's so sad that people who went to America with high hopes are becoming victims of violence. Not everyone thinks like that, but it seems like a lot of people have been thinking like that these days." He added, "It's very difficult to own firearms in India, but I heard that it's easy in America. You never know when you'll be shot on the road. I also dreamed of studying in the U.S., but I gave up. My friends in the United States are also considering to come back to India if things get worse."
There have been three violent attacks against Indians in the U.S. in the past two weeks, killing two people and causing many casualties. Indian Prime Minister Narendra Modi expressed deep concern for President Trump and several high ranking officials of the Indian government criticized the case as well.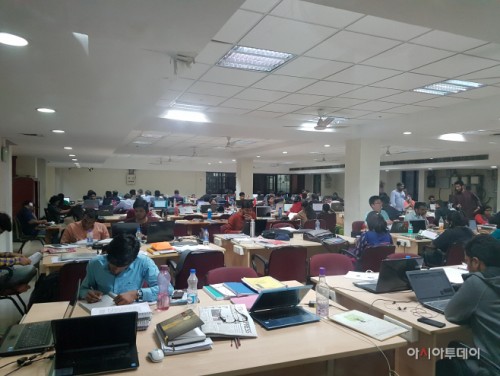 Many college students are working hard to seek the American dream, but the dream is losing its charm now./ Photographed by Jeong In-seo

"These kind of incidents involving racial discrimination are shameful. They will dent the image of USA. So the US President and civil societies should unequivocally respond and condemn such incidents," said Venkaiah Naidu, Indian City Development Minister, in an interview with local media. Home Minister Rajnath Singh said, "We hope the US government will try to restore the faith of ethnic minorities in the country."
The Hindustan Times (HT) criticized that Trump is not considering seriously the aftermath of the anti-immigration order and that he is just claiming that the case is not related to hate crimes.
Criticism ignited online as well, with comments like, "It's hard to understand US policy. It feels like losing liberty in the land of liberty. Who will be responsible for the security of Indians if hate crimes continue to rise?" and "Americans know nothing of the difference between Muslims and Sikhs. Ignorance has caused death."