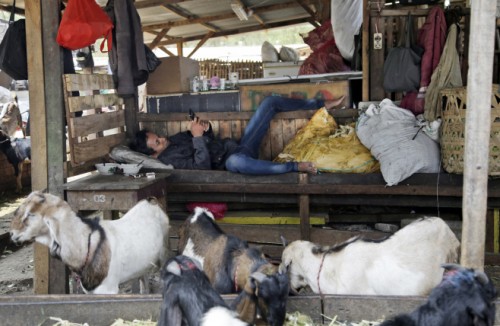 A goat dealer watches his mobile phone in a slum in Jakarta, Indonesia, on Sept. 29, 2015./ Source: AP, Yonhap News

By AsiaToday reporter Jina Koh – Asia's emerging countries are facing slum challenge and opportunity due to rapid urbanization.
Rapid urbanization in emerging countries has brought migration of many local residents to the city. Eventually, this inward migration has brought rapid increase of urban slum dwellers.
According to the World Bank data, about 55% of Cambodia's urban population lives in shantytowns, 43% in Mongolia, 41% in Myanmar, and 38% in the Philippines. This is higher than 20% in neighboring Indonesia, Vietnam and China.
These countries are regarded as the victim of their own success in some respects. This is because urban migration is already going far ahead of governments' ability to provide adequate infrastructure and services. As a result, illegal houses are concentrated in the large cities of Manila and Jakarta to offer homes for millions of workers.
"Emerging slums are proof that the economy is growing and the opportunities are often in cities," said Makiko Watanabe, a World Bank senior urban specialist. "But governments cannot keep up with providing adequate housing. There is a need to improve land use policies and make housing finance more affordable." He emphasized that it is necessary to pay attention to the success of Korea, Singapore, and Japan, which also experienced this process in the past.
In other words, urban slums can serve as opportunities for growth depending on government policy.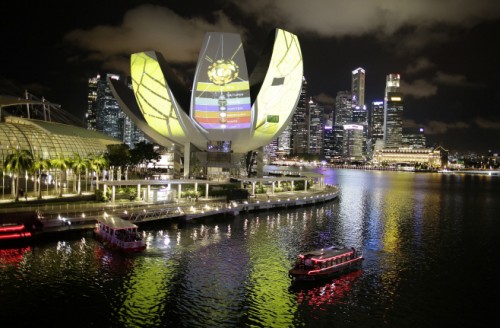 Marina Bay Sands in Singapore, on Mar. 1./ Source: AP, Yonhap News
For instance, Singapore has succeeded in transforming itself into a modern international city from small town. This small country, whose population is projected to reach nearly 7 million by 2030, has become one of the most advanced countries in Asia with the success of government-led policies. The government has implemented several policies based on technology, and now it is recognized as one of the world's smartest cities in terms of technology-sensing infrastructure, along with New York and London.
Policies to encourage more investment in the major metropolitan areas are essential to build hospitals, schools, highways and other core elements that are needed for cities. This can lead to population diversification, and this is what China has been trying to do with its Jingjinji coordinated development project since 2014.
The Chinese government is focusing on shifting much of Beijing's capital function by taking Jingjinji coordinated development plan as its national strategy. The Jingjinji, or Jing-Jin-Ji (an abbreviation of the Chinese names of Beijing, Tianjin, and Hebei) plan aims to develop these regions into mega cities to reduce the gap with neighboring cities.
According to a recent report by People's Daily Online, the zoo wholesale market in Beijing has more than 30,000 employees and 10,000 daily customers. The area is heavily congested, however many businesses are moving to Hebei as part of the Jingjinji plan. While Beijing and Tianjin are suffering from big city disease, small cities in Hebei are not. If successful, it is expected to solve serious big city problems to certain extent, such as overpopulation and traffic congestion. In 2030, a 3,400-km intercity railway is expected to be built to form a 30-minute commuting circle among the three regions.
Social recognition of slum dwellers should be changed as well. The perspective that slum dwellers are a burden for the government and the society should be dismissed. "In fact, they are the backbones of the economy," said Watanabe.