By Hong Soon-do, Beijing correspondent, AsiaToday – The "Two Sessions", or the annual political meetings of China's top legislative and political advisory bodies, are coming close. The fifth sessions of the 12th National Committee of the Chinese People's Political Consultative Conference (CPPCC) kicks off on Friday in Beijing, while that of the National People's Congress (NPC) begins on Sunday.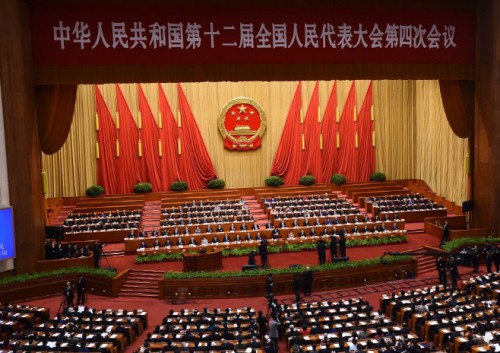 The fourth sessions of the 12th National People's Congress (NPC) held on March 5, 2016. "Wen zhong qiu jin (穩中求進)" will be an important principle for the upcoming sessions./ Source: Xinhua News Agency
All eyes are on China's Two Sessions since it's the country's largest annual political event where the government's core policies on economic, political, and social fields are discussed. According to the People's Daily and other state-run media outlets, the main focus will be certainly the economy. In this case, we should first think of the slogan "wen zhong qiu jin (穩中求進)", which means "seeking progress while maintaining stability." This is not an exaggeration since China's top leadership made it clear that the policy will focus on "seeking progress while maintaining stability" at the Central Economic Work Conference held at the end of last year. This is why there are prospects that the 6.5% growth target, which is considered to be the Maginot line, may be abolished.
Once the principle of not sticking to blind growth is fixed, China will obviously examine supply-side structural reform. It will likely to announce intense restructuring measures in sectors like steel and coal. China could also declare its willingness to reform the state-owned enterprises once again. Needless to say, those zombie companies that are known to be up to 10,000 would be closed down.
We should also take a look at whether the growth rate of the defense budget, which had fallen to 7.6% last year, will increase to double digits again. The defense budget is likely to increase considering the country's move to expand armaments. Furthermore, war clouds are hanging over the Cross-Strait relations as Taiwan continues to provoke Beijing over the One-China principle. However, things can be somewhat different if the policy makers stick to the slogan "wen zhong qiu jin."
The Two Sessions will be the first national assembly since Xi Jinping was named "core leader" of the ruling Communist Party last year. Therefore, policies in other fields are expected to be proceeded carefully.