By Hong Soon-do, Beijing correspondent, AsiaToday – Relations between China and North Korea are showing signs of deterioration. China seems to be very upset with North Korea's recent provocative actions, such as the test of an intermediate-range missile (the Pukguksong-2) and the assassination of Kim Jong-nam who had been lived under secret protection from Chinese authorities, and thus could take strong steps against North Korea. Not impossibly, China may also enforce harsh sanctions against North Korea.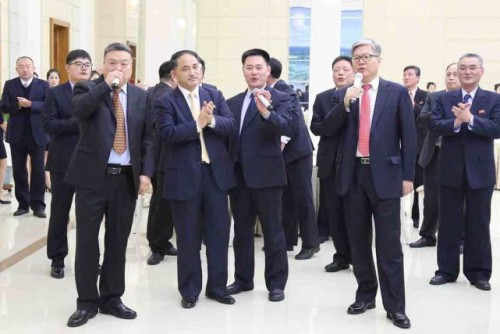 North Korea's foreign ministry invited the staff of the Chinese embassy in Pyongyang to a banquet on Feb. 7. The image shows officials from both countries at the banquet. It seems to show the once-friendly relations between the two countries./ Image: Global Times)
In fact, the Beijing-Pyongyang relations were at their worst until the first half of last year. It was due to China's sanctions against North Korea that seemed harsher than the U.N's. According to a source familiar with China-North Korea relations on Wednesday, the atmosphere changed after South Korea decided to deploy the Terminal High-Altitude Area Defense (THAAD) on the Korean Peninsula. Until recently, China and North Korea the Beijing-Pyongang relations had warmed. Both sides had even referred their relations to the "blood ties." Prof. Fang Chang Ping from Renmin University of China explained the recent Beijing-Pyongyang relations, "China is absolutely against THAAD deployment in South Korea while South Korea and the US are in favor of THAAD deployment. In this situation, it's common sense for China to reach out to North Korea again."
However, the reconciliation between China and North Korea ended too quickly due to the missile launch and Kim Jong-nam's assassination. It is also rumored that China will take a new step against North Korea soon apart from the U.N. sanctions. For now, it's difficult to say how harsh the punishment would be. However, it is possible to guess from the fact that once-banned search term "Kim Fatty the Third" or the Chinese equivalent "Jin San Pang" is reappearing on Baidu and other Chinese search engines. It's so clear to say that China is not willing to forgive once-blood brother.
It is also true that China has a lot of options now. As the only channel for North Korea of getting American dollars, China could immediately put pressure by restricting North Korea trade. In this case, it is highly likely that North Korea, which has barely recovered recently, will be forced to stand at the crossroads of life and death again. China could also reduce oil and electricity assistance to North Korea, and even take stronger diplomatic measures, by bringing back its ambassador from Pyongyang. The strained relations between China and North Korea seems only a matter of time.