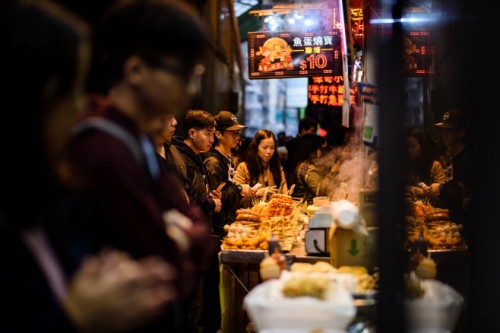 People gathered in a street market in Hong Kong on Jan. 31./ Source: AFP, Yonhap News

By AsiaToday reporter Jina Koh – Australia's Qantas recently unveiled Qantas Concierge, a Facebook Messenger bot that responds to customers. Through this virtual concierge, customers can get information about their preferred destinations, whether they are beach destinations or accommodations.
The purpose of this service is to provide relevant information through channels that consumers can easily access. Qantas plans to expand the chatbots capability this year to provide flight itineraries, flight and gate change updates and more.
Tourism companies are prioritizing customer experience by launching customized services that meet the needs of Asian customers. Companies are trying to keep up with changing trends among Asia's middle class as they are expanding rapidly.
Such trends can be seen in a study released last month by travel technology company Sabre in collaboration with social commerce TrendWatching. The report revealed three distinct behavioral trends among Asia-Pacific consumers: "Self-improvement," "Local Love," and "Infolust." Among them, the trend of infolust, whereby consumers actively seek for relevant information, poses a challenge for companies to provide services that are much more tailored to consumer needs.
Infolust is highly related to the expansion of internet and mobile penetration. Consumers are open to information sharing as they can access to a relatively larger amount of information compared to before. Popular messaging apps like WeChat, Line, and Facebook have become the main window of information sharing as they are used nearly dozens of times a day. Which is also why Qantas is reaching customers through Facebook messenger.
In particular, China is a market where changes in customized services are evident. Start-ups are focusing on personalized travel services, while traditional travel companies are competing to add the personal touch to their services.

"Customized travelling is still in its early stages in China, but it is picking up quickly," Lei Tao, a co-founder of Beijing-based Unique Way, told South China Morning Post previously. He revealed that when he started the business in 2012, the company only got two or three orders per month but now it gets hundreds of phone calls.
Big companies are competing in the market as well. Chinese travel company CITS Group has created a team called "dream builders" to produce travel products tailored to customers' needs. Online travel platform Qunar has a travel planner system that provides tailor-made trips to 305 cities worldwide.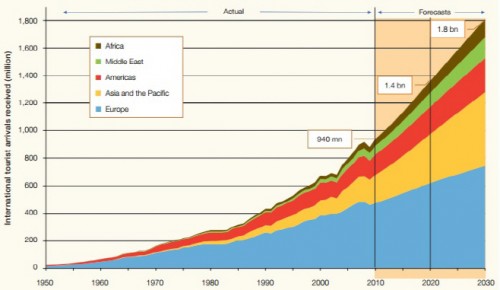 International tourist arrivals by region since 1950 and a forecast until 2030./ Source: UNWTO

Personalized services are especially necessary for people with disabilities. Xu Lin, a 32-year-old hearing-impaired engineer in Shanghai, revealed that her applications to travel have been often turned down by existing travel agencies. However, she discovered a customized travel agency through the internet in 2015. First, the trip planner helped her plan her itinerary, purchase tickets, book hotels and even apply for visa. After arriving at the destination, a smartphone app guided her to tourist attractions and provided explanations of the sites in Chinese. The app provided 24-hour emergency support as well. The 11-day customized trip cost was about 45,000 yuan (approx. US$6,500). Since personalized trips are not so expensive, they are now attracting a much wider customer base.
Hotels have also joined the competition. They are trying to differentiate themselves to win the battle with accommodation sites such as Airbnb, which provide lower-priced options. Instead of lowering prices, they are looking for ways to make a difference in niche markets with value-added services, such as halal breakfasts and partnership with luxury brands.
Since last August, the Pan Pacific Singapore hotel has provided unlimited mobile data to guests and let them make free overseas calls to 15 countries. Singapore Marriot Tang Plaza Hotel has introduced a mobile app that allows guests to check in and out using their smartphones and even chat with hotel staff.