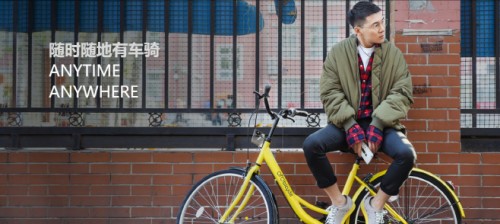 Image source: Ofo website

By AsiaToday reporter Jisu Kim - The bike-sharing business using a smartphone app is garnering attention across Asia.
The bicycle is seeing a revival in China with the use of bike-share apps, reported AFP on Sunday. With a bike-share app, you can unlock a bicycle, have a ride, and return it to any of the widely distributed bike stops around the region. This bike-share concept is attracting huge venture capital, and startup companies are fiercely racing to increase their market share.
These companies are targeting China's 700 million smartphone users to become the "Didi Chuxing" of the bike business. Ofo, which started as a Peking University student project in 2015, claims 10 million users in 33 cities. It plans to add 10-15 million bikes this year, said chief operating officer Zhang Yanqi. Mobike, which started last April in Shanghai, boasts some hundred thousand of bicycles in 13 cities in China. "We are focusing on how to make the small bicycle have a big impact," said Mobike CEO Davis Wang.
Investors from not only China but also other countries are competitively investing in Mobike and Ofo for a big one. Chinese ride-sharing leader Didi Chuxing, which has taken over rival Uber in China, is the biggest investor of Ofo while Mobike's investors include Chinese IT giant Tencent and Taiwan's Foxconn, an iPhone manufacturer. So far, Mobike has reportedly raised $400 million and Ofo scored $200 million investment.
Each bike can be rented through a smartphone app at a cheap cost of 1 yuan (15 cents) for an hour. Bikes can be left anywhere for the next user. Mobike can tell you where idle bikes are.
The Chinese government also commented on Mobike and Ofo last month and praising the bike-sharing as it reduces pollution and traffic congestion.
Bike sharing is also garnering attention in Taiwan, which is famous for scooters rather than bikes. Taipei's transport department recently revealed that bicycles are used for 5.1% of journeys in Taipei. According to the transport department, this is much higher than 2% transport share achieved in London under former mayor Boris Johnson, now the UK foreign minister.
The growth of cycling in Taiwan is mainly backed by a public-private partnership called YouBike, a collaboration between Taipei City and Giant Bicycles of Taiwan, the world's biggest bicycle maker. The project, which was launched in 2009, is now available in six Taiwanese cities with 400 bike stations in Taipei alone. So far, over 78 million rentals have been made. According to the transport department data, 43.1% of YouBike users who cycle for more than 30 minutes use the bike to commute to work or school, with 35.1% for leisure and 15.1% for shopping.
Singapore's The Strait Times reported on Jan. 21 that oBike, a Chinese bike-sharing company, is gaining popularity in the northern and western parts of Singapore. Ofo and Mobike have already made their moves to enter the Singaporean market. Singapore government agencies such as the Land Transport Authority (LTA) and JTC Corporation under the Ministry of Trade and Industry have recently called for bids for their own bike-sharing systems.
In Korea, the Seoul Metropolitan Government launched a public bike-sharing service in September 2015 called Seoul Bikes ("Ttareungi" in Korean). The rental stations were first centered in five areas of the city. As the service is getting a positive response among citizens, Seoul plans to expand its bike stations to 1,300 locations throughout the city this year.
The Nikkei Technology said that Japanese telecom company SoftBank Corp and Openstreet, which was spun off from SoftBank, launched the "Hello Cycling" IoT-based bike-sharing system last year. SoftBank aims to integrate the bike-sharing business systems across the country by offering its system to service providers.