By Hong Soon-do, Beijing correspondent, AsiaToday – China will surely ban imports of poultry and related products next week from South Korea which is affected by avian influenza (AI). However, it will allow importing instant samgyetang, or Korean chicken soup with ginseng, as an exception. The dish, which has been exported to China since June, could be soon joining the list of popular Korean dishes in China.
An official from China headquarters of the Korea Agro-Fisheries Trade Corporation (aT) on Sunday revealed that samgyetang's exception to China's banning list is closely related to sterilization of finished products. Besides, an agreement between South Korea and China on quarantine and sanitation rules at the end of last year played a big part as well. According the agreement, samgyetang can be distributed regardless of AI. Lee Pil-hyung, the director of the China headquarters of aT, said, "Sterilized samgyetang is safe to eat. The outbreak of AI could have a negative impact on sales in China, but we will overcome the problem with aggressive marketing."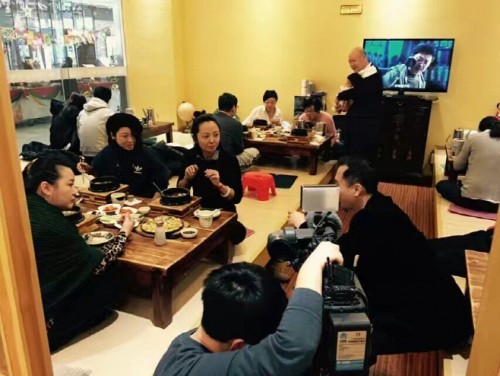 A local Chinese broadcaster covers Chinese people enjoying samgyetang at a Korean restaurant in Jichang Fulu, Chaoyang District, Beijing. With active exports, the dish has become even more popular in China./ Source: China headquarters of the Korea Agro-Fisheries Trade Corporation

In fact, aT has recently been targeting consumers in China with a more aggressive sales strategy. Recently, it held a large-scale samgyetang tasting event in Hyundai Motor's plant in Changzhou, where both safety and taste of the dish were recognized.
This month, it placed a 15-second long commercial video on a total of 534 bus lines in Beijing used by 27 million people. The model of the commercial is quite shocking. Sang Xue, who won the gold medal for the synchronized diving at the Sydney 2000 Olympics and then turned into a singer, kindly describes samgyetang's taste and nutrition. Park Jin-kyung, general manager of aT Chinese headquarters, said, "In Beijing, people tend to pay high attention to ads on the bus. The effect is great. We are expecting much from our advertisement since nearly 27 million people, more than half of the population of S. Korea, watch it every day."
Korea exported a total 200 tons of samgyetang to China since June. It is considerably smaller than 500 tons that aT had originally set as the target. Considering the fact that it had been on the banning list however, it can be regarded as a pretty good track record. The aT China headquarters is expected to sell more than 1,000 tons of samgyetang next year.