By Hong Soon-do, Beijing correspondent, AsiaToday – The reason for the divorce between Chinese superstars Cecilia Cheung (36) and Nicholas Tse (36) is widely known even in Southeast Asia. The biggest reason behind the divorce was apparently due to a sex photo scandal involving Cheung and singer-actor Edison Chen (36). It turned out that Edison Chen, who had had intimate relationships with the stars, including Cheung, saved explicit photos of them in his computer, and the photos were retrieved and leaked online when Chen took in the computer for maintenance.
However, new claims have surfaced that there is even more terrible reason for the divorce, shocking the Chinese entertainment circle. It's about the paternity of Nicholas Tse and Cecilia's eldest son, Lucas. According to Beijing sources on Dec.17, Tse has never believed that Lucas was his biological son. Eventually, he underwent covert genetic testing at Hong Kong's Victoria Hotel. The result was shocking. The test revealed that there is only a 0.03% match between the DNA of Lucas and Nicholas Tse.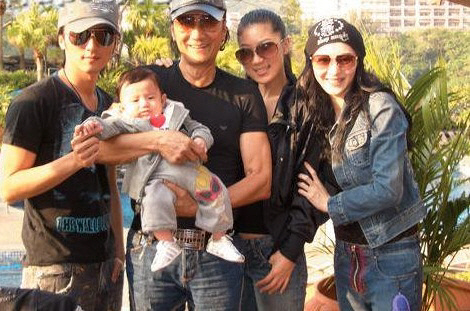 A happy moment of Nicholas Tse's family. (From left) Nicholas Tse, his father Patrick Tse, Nicholas' sister, and Cecilia Cheung. The baby Cheung is holding is Lucas./ Source: search engine Baidu
Soon after, there was even more shocking rumors claiming that the child's real father is the man he calls his grandfather, Patrick Tse. Of course, Tse's family and people around him tried to hush up the truth. However, Tse could not continue his marriage and decided to split up.
These rumors are spreading through social media. Some claim that Lucas' real father is not Patrick Tse, but Edison Chen. Whether the rumors are true or not, it's obviously fatal to Cecilia Cheung, who is struggling to return to the entertainment industry after failing to recover the lost reputation.