By Hong Soon-do, Beijing correspondent, AsiaToday – The China-Japan relationship, which has been deteriorating due to Japan's recognition of historical issues and territorial disputes, continues to grow apart from normalization. Besides, it is unlikely that the relationship will dramatically improve next year.
Most of all, Tuesday marks the 79th anniversary of the Nanjing massacre and a commemoration of the incident is expected to be a setback for normalization, according to Beijing's diplomatic sources on Sunday. China is igniting anti-Japanese sentiments as it prepares a massive commemoration on the day of the massacre of 300,000 Chinese who were killed by the Imperial Japanese Army during the Sino-Japanese War in 1937. In the same vein, Chinese Foreign Ministry spokesperson Lu Kang said last week that Prime Minister Shinzo Abe should visit the Nanjing Massacre Memorial Hall to apologize, not the Pearl Harbor, when commenting on Abe's planned visit to Pearl Harbor in Hawaii later this month to mourn the victims of the Japanese attack during the WWII. This is China's expression of strong displeasure with Japan's move to strengthen its alliance with the US, while ignoring its relations with China.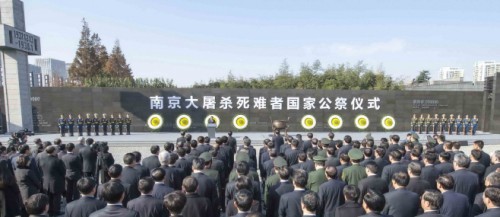 China held a national day of remembrance for the Nanjing massacre in Nanjing, Jiangsu, on Dec. 13, 2015. Japan is denying the Nanjing massacre, deteriorating it relationship with China./ Source: Xinhua News Agency
On the other hand, Japan is strongly denying the historical fact of the Nanjing massacre itself. Moreover, it recently has lashed out at UNESCO's decision to inscribe documents related to the Nanjing massacre in its Memory of the World register. It has been not only holding back the UNESCO funding, but also calling for the process to be reformed. Considering the situation, it is hard to imagine Japan issuing an apology to China ahead of the memorial day on Tuesday.
Meanwhile, Japanese and Chinese military aircraft engaged in an tense encounter over the East Sea on Saturday. Tension between the two countries reached a point of an armed conflict. This seems why China's Ministry of National Defense issued a statement immediately, which was an unusual move.
China's attitude towards the China-Japan-South Korea summit, which was to be held in Tokyo, also tells us that it is not easy to improve relations between the two countries. China did not even express its position on whether to hold it, and immediately ignored Japan's position. It's not an exaggeration to say that it is almost impossible for bilateral relations to improve suddenly next year.