By Hong Soon-do, Beijing correspondent, AsiaToday – As there is a strategy called "human-wave strategy," many men can become a weapon. It's true considering the present economic reality where an individual is a consumer. From this point of view, Chinese tourists, known as "youkers," are strategic resources that can certainly be weaponized.
Recently, there have been many suspicious circumstances in which the Chinese government secretly enforced its policy of cutting the number of tourists visiting the countries and regions in conflict with the mainland. In fact, this has been widely acknowledged by most of Chinese industry officials who asked for anonymity.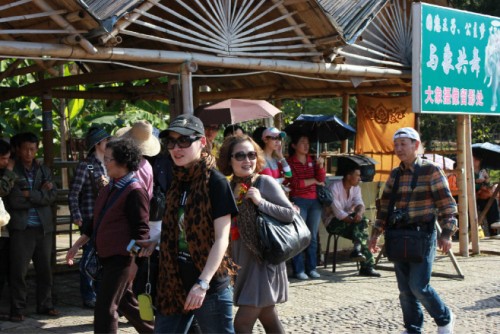 The rapidly growing number of Chinese tourists is showing the sign of the weaponization. The photo shows youkers on a farm tour in Thailand./ Source: search engine Baidu

According to Beijing sources on Thursday, nearly 120 million Chinese tourists went overseas in 2015, and the number is expected to double to 200 million by 2020. Obviously, tourism players around the world are seeking to attract such enormous bonanza. In fact, countries like South Korea, Japan, Taiwan, and Hong Kong have been benefited from Chinese tourists as their top destinations till recently.
However, those countries are expected to experienced a dramatic decrease in the number of youkers in the future because the Chinese authorities are pushing their own tourism industry to cut the number of youkers in an effort to be engaged in weaponization. It seems South Korea is being one of the victim countries suffering from China's strategy after it decided to deploy the Terminal High Altitude Area Defense (THAAD) and signed the General Security of Military Information Agreement (GSOMIA) with Japan, fueling tensions in South Korea-China relations. Korean tourism industry officials in Beijing revealed that such a large number of Chinese tourists are now missing from the Korean market.
Taiwan and Hong Kong are no exceptions. They saw 30% and 20% decline, respectively, in tourists from China in November over the previous year. This is mostly because Beijing has been unhappy about Taiwan seeking independence and Hong Kong's rising anti-Mainland sentiment. Japan seems to be standing aside from such bad luck. However, there is a possibility of even bigger misfortune since it has a frosty relationship with China.
The problem lies in the fact that China's neighboring countries and regions are helpless for its youker weaponization. In order to improve the situation, Korean ambassador in China tried to hold a meeting with a chief of China's State Council Tourism Office a long time ago. But the ambassador is still waiting for a reply. It is natural to say that we have to prepare for more fundamental measures. It seems that we should now take "youker weaponization" as a brutal fact.