By Hong Soon-do, Beijing correspondent, AsiaToday – China is a socialist country, but still there are many rich people in society who do what they please, even though it may seem unreasonable and silly, because they are rich. Such behavior is called "rènxìng", a term that has been very popular in China for several years.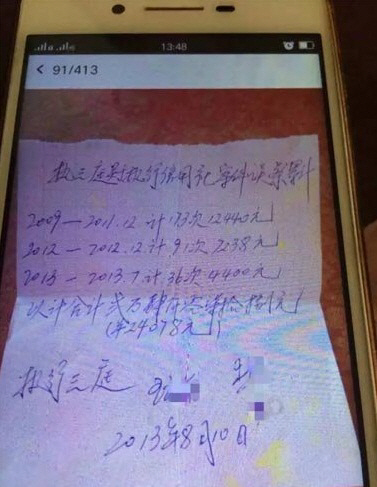 Cao Juan, a restaurant owner, revealed a list of bills unpaid by court judges. This garnered a lot of attention as evidence of the court's "rènxìng."/ Source: The Beijing News
Such a terrible story is being talked about again recently in the media. This was a very shocking story because "rènxìng" has been conducted by a court, which administers justice, for the past seven years. According to the Dec. 7th report of Xinhua News Agency, the central figures of the story are court judges at the Changqing District Court in Jinan, Shandong province. The story is not so complicated.
Cao Juan, who runs a small restaurant near the Changqing District People's Court, received an attractive offer from judge Wang seven years ago. The judge told her that the court judges would visit her restaurant often with court money and that they would pay bills all at once. Cao Juan was lured by the promise of frequent business from court staffs. She happily accepted the offer and did not forget to offer exceptional benefits, such as cheaper dining menu.
However, the judges betrayed Cao's goodwill. They dined nearly 300 times for 7 years without paying a coin. At first, she was patient. But when the bills mounted up to 24,000 yuan, Cao revealed the story on social network with the help of her acquaintance. At last, she could get a response from Changqing District. The court said this has nothing to do with the court, but rather the individuals who signed off for the meals. The court played innocent to the end.
Fortunately, this case ended with a happy ending after the court paid all the money after admitting their fault. However, this case clear showed the reality of the Chinese society stained with "rènxìng." Lawyer Cui Shanyun stressed that society should become more mature and that China must cut down "rènxìng" in order to cross the threshold of developed country.