By Hong Soon-do, Beijing correspondent, AsiaToday – As Chinese President Xi Jinping received a potent boost to his status in the sixth plenum of the 18th Central Committee that concluded on Oct. 27, Xi's close allies are emerging. Unless there is a rapidly changing situation in the future, Xi's people are expected to hold a key position in the government for at least 10 years.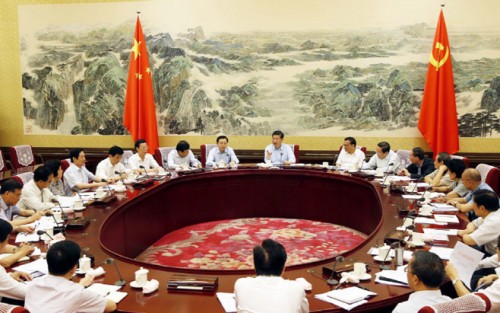 The Politburo of the Chinese Communist Party, the most powerful body in the Communist Party of China. Xi's elevated status will increase his chances of appointing his own people to the Politburo, which is consisted of 25 members./ Source: Xinhua News Agency
As expected, personnel changes after the Communist Party's sixth plenum meeting are focused on Xi's close allies. A good example will be Cai Qi, former deputy governor of Zhejiang province. At the 14th Beijing People's Congress on Monday, Cai, 61, was appointed vice mayor and acting mayor of Beijing, virtually solidifying his next position as the mayor of Beijing. According to the Nov. 1st report of Beijing Daily News, Cai is a typical ally for the president. He spent nearly 22 years following Xi from 1985 to 2007 in Fujian province and Zhejiang province. Besides, he aided Xi Jinping for 17 years while working in Fujian province. This is why he is known as the key figure of so-called "Fujian faction", the biggest faction of Xi Jinping.
Jiang Chaoliang, former governor of Jilin province, should be also noted. He has been appointed secretary of Hubei province immediately after the sixth plenum meeting. The appointment of Jiang is closely related to his relationship with Wang Qishan, the right hand of Xi Jinping. Ma Jiantang, former head of the National Bureau of Statistics, is also a close ally of Xi. Ma, 58, was appointed deputy secretary of the Party School of the National School of Administration.
In contrast, Premier Li Keqiang's tuanpai faction, the rival of Xi's faction, have gone to the wall. Zhao Yong, deputy secretary of Hebei province, and Wang Anshun, mayor of Beijing, have been relegated to a trivial position. Moreover, Li Liguo, minister of civil affairs of China, has been withdrawn from his position due to corruption charges. It seems certain that Xi's factions including Fujian faction will dominate political situation in China.