By Hong Soon-do, Beijing correspondent, AsiaToday – As China on Monday successfully launched the manned spacecraft Shenzhou-11, the astronaut duo Jing Haipeng and Chen Dong emerged as national heroes. In particular, mission commander Jing Haipeng, who has been on three of the country's four manned space missions, is enjoying an enormous popularity which surpasses that of China's first space traveler Yang Liwei. He is expected to build successful career in the military unless he makes trouble.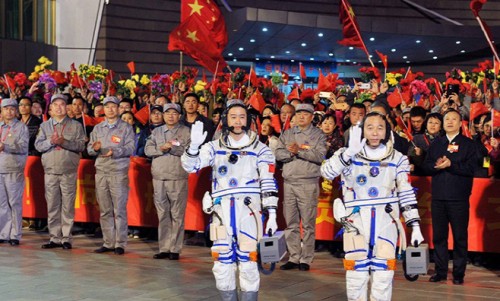 Chinese astronauts Jing Haipeng (right) and Chen Dong greet to officials prior to boarding on the Shenzhou-11 spacecraft, which was launched at the Jiuquan Satellite Launch Center in China, Oct. 17./ Source: Xinhua News Agency
There are special reasons behind this, considering the Oct. 17th report of China Youth Daily and other Chinese media outlets. Most of all, both Jing Haipeng and Chen Dong are clearly a story of "human victory." Jing had a bad luck of failing an aviation exam after graduating from high school due to physical reasons. However, he overcame his misfortune with his indomitable will. In fact, when failed the recruitment process in 1984, he built up his body perfectly. The following year, he got accepted to an aviation school in Hebei Province. Upon graduation, he joined the Air Force and became a dream pilot. In 1996, he was selected to be one of China's first astronauts, and passed all the training with honors after two years. However, chances hardly came to him. In 2003, he had to give away the honor of being China's first astronaut to his senior Yang Liwei who had worked with him.
However, this did not dissuade him. He waited for the right time. Five years later ,he was involved in the Shezhou-7 mission. He also carried out the Shenzhou-9, China's first manned space docking mission. Now, he became the commander of Shenzhou-11, becoming the first Chinese astronaut to fly in space three times. At the same time, he also became the oldest astronaut. Inevitably, he will be remembered as a hero.
The story of Chen Dong is also exceptional. He was barely chosen as an astronaut through a re-examination in 2009. He threw himself into training and isolated himself from the outside world for a full six years. He abandoned all his hobbies to achieve his goal. It wasn't an easy thing to overcome at the age of late 30s, but he did.
Another reason why the two should be remembered as heroes comes from their ability to work in perfect harmony despite 12 year age difference. During training, Major General Jing Haipeng was always ready to accept Colonel Cheng Dong's objection if it was reasonable. Perhaps he bent his pride because he and Chen had to work together toward national goal that shouldn't be a failure. No wonder the duo's impressive stories are reported almost daily in the press.