By Hong Soon-do, Beijing correspondent, AsiaToday – The Chinese People's Liberation Army (PLA) is showing signs of being full of young bloods unlike few years ago when there were full of elderly officers. Besides, the PLA is expected to become younger in general as many young soldiers attained the rank of general. This means that the PLA, which was once called "old army", is expected to change completely.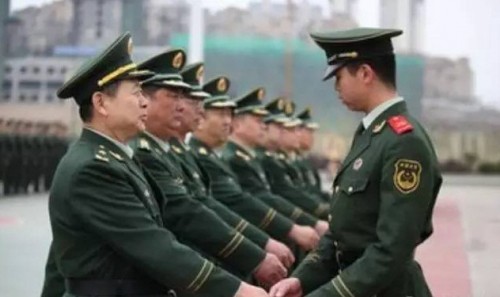 The PLA generals do close-order drill. Most of them are elderly, yet the average age is lowering due to the recent rise of young bloods./ Source: People's Liberation Army Daily
According to a source in Beijing familiar with the Chinese military on Wednesday, this assertion is not an exaggeration considering the number of lieutenant generals who have been promoted from major general since Army Day (August 1st). While it wouldn't have been easy before to move up to colonel, many soldiers in their early 50s, or so called "liu ling hou" (post-60s) generation made great advances. It has been found that 5 soldiers out of 27 on the promotion list were "liu ling hou."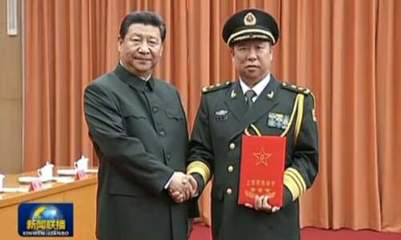 Lieutenant General Liu Zhenli shakes hands with Chinese President Xi Jinping during the promotion ceremony. Liu became the youngest lieutenant general in the PLA./ Source: CCTV

It's clear that the Chinese military is getting younger looking at the promotion list . One of the good examples of young bloods would be Liu Zhenli, 52, Lieutenant General and Army Chief of Staff. As the prominent young blood who became a general at the age of 46 in 2010, he has been promoted this time once again and became the youngest lieutenant general in the People's Liberation Army.
Another example is Xiao Tianling, 54, Vice President of PLA National Defense University. Since he became a general at the age of 46 in 2008, he has been promoted to lieutenant general this time. Other promoted young bloods include Zhang Shuguo, 55, Director of the Political Department; Liu Xiaowu, 56, commander of the army under the PLA Southern Theater Command; and Bai Lu, deputy political commissar under the PLA Southern Theater Command. There are many young bloods in the major-general level. Roughly 40 new officers are following close behind their seniors and colleagues who have been promoted to lieutenant generals. Mao Xinyu, 46, grandson of late Chinese leader Mao Zedong, and Wang Ruicheng, 49, Major General, are some of the examples.
Currently, "liu ling hou" generals account to only around 10% of the whole army. However, they are considered to surpass their seniors in terms of ability and qualification. Obviously they are likely to be major talents that would lead China's military in the post-Xi period that begins in 2022. We could say that the future of China's military is bright.