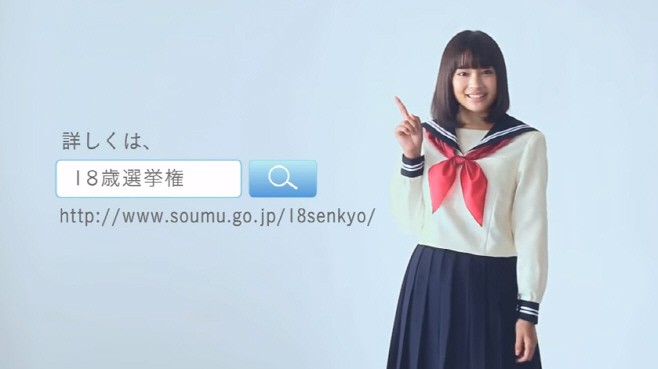 Source: Official Youtube channel of Ministry of Internal Affairs and Communications of Japan. @soumuchannel
By AsiaToday reporter Kim Ye-jin - "Don't Underestimate 18-years-olds"
This was the message that was written on a poster revealed by Kobe to encourage young people to exercise right to vote. According to Jiji Press on Sunday, Japan's political parties are making greater efforts to approach the 18- and 19-year olds who will be voting for the first time in the upcoming Upper House election scheduled to take place on July 10.
On the same day, Asahi Shimbun said, Japan's ruling and opposition parties geared up promotions to win over Japan's newest voters.
In particular, Japan's five parties including the ruling Liberal-Democratic Party (LDP) and the Democratic Party (DP) engaged in promotion battle using animations to attract young Japanese people at this year's Nico Nico Chokaigi held at Makuhari Messe in Chiba Prefecture for two days on April 29 and 30.
The LDP decided to reach out to young people with its anime characters expressing Abenomics, which is Prime Minister Shinzo Abe's economic policy. The ruling party drew an anime-style picture of three men holding three arrows (referring to monetary easing, fiscal expansion, and structural reform) on its campaign vehicle to attract young people at the event.
The DP, whose actual approval rating falls behind the LDP, enjoyed overwhelming popularity at the event. DP's secretary-general Yukio Edano sang and danced on stage with female idol group Kamenjoshi.
Regarding the event, the official of the party said, "The purpose of this event was to raise awareness of the party among young people. In that respect, it was successful."
In addition, the Komeito, also known as Clean Government Party (CGP), attracted attention by highlighting its deputy secretary general Tetsuo Saito, who calls himself as 'ralway otaku (mania)'.
Meanwhile, Japan's Upper House race will be the first national election after the voting age is lowered from 20 to 18.