The term "dukhoo" originated from Japanese, 'otaku (オタク)' and is widely being used nowadays for meaning someone who is obsessed with something or someone, or specialized in something or someone in a good way.
Dukhoos are those who get delighted collecting cups that others think it is waste of time doing it so, and those who are obsessed with a particular scene of movie, and stay up all night to collect a perfect figure collection. They are also very fast at buying tickets.
What's interesting is that these days, many celebrities come out as a 'dukhoo' or do so-called 'duk-ming out'. Why did they show up all of a sudden?
Let's hear what dukhoos around us say.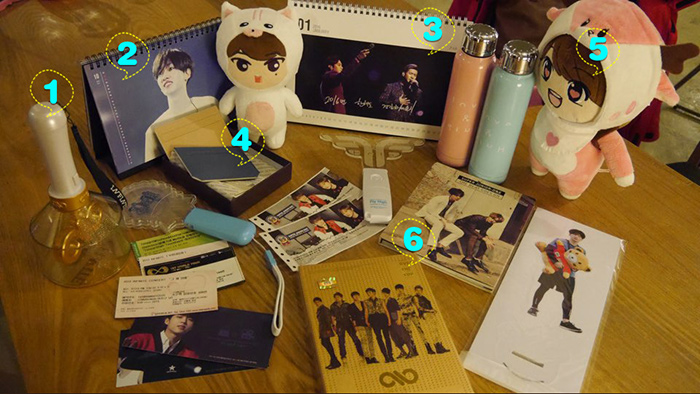 K-pop idol goods are evolving these days. Apart from official ones, fans are producing idol goods by themselves. Creating idol goods has become a culture of entertainment among fans.
1. K-idol INFINITE's official cheer stick
2. K-idol Super Junior member Eunhyuk's fan-made calendar
3. K-idol Fly to the Sky's calendar
4. Fly to the Sky's card wallets and tumblers, which are available for "ilco". (It really works! Nobody will recognize them.)
5. This kind of doll is popular among fans. Each doll is designed by fans to represent the idol's characteristic.
6. All the albums and tickets on the table are from INFINITE's and Super Junior's concerts.
[ Dukho dictionary ]
: Otaku, buff, someone who is overly obsessed with someone.
: The overall activity that dukhoo does for something or someone obsessed with. For instance, if you are a movie dukhoo, watching movies can be described as doing 'dukjil'.
: The word comes from English novel 'Harry Potter'. It refers to a person who is now aware of culture of dukhoo.
: The motive for becoming a dukhoo. It is a combination of 'dukhoo' and 'car crash'.
: Taking a break from doing duk-jil.
: Withdrawing from being a dukhoo.
: The dictionary defines it as a person who spoils its body by being lazy and inefficient. The recent concept of a 'pae-in' is a person who spends its time on the internet for 24 hours a day, expressing their interest on the net.
Well. Ilco is over now. Please stand up and check your goods for duk-ming out. [The term "ilco", the shortened form of 'ilbanin cosplay' (ordinary person costume play). It describes an otaku that is afraid of the eyes of society and instead opts to act like an ordinary person and not an otaku.]